Are you building a hog wire fence for your property?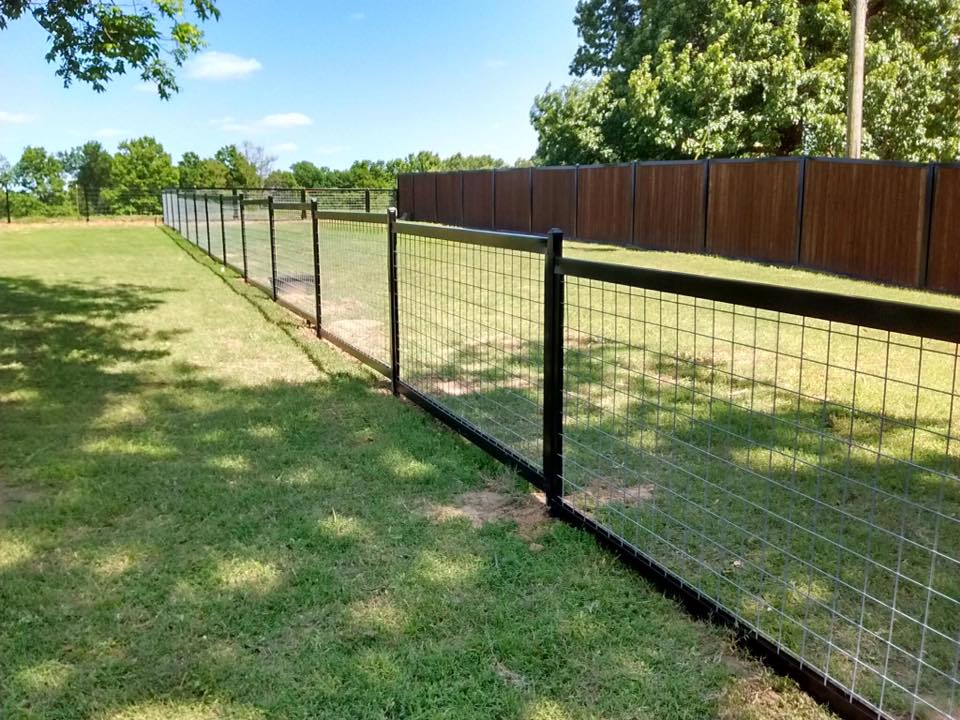 If so, you've come to the right place.
Maybe you have an industrial or agricultural property  that requires a barrier…
Or maybe you need to install a backyard fence or fence around your retail or entertainment complex.
And you want a fence that won't block the view.
As an alternative to chain link, hog wire fences can be built in any of dozens of styles and designs.
In this guide, we'll discuss different options for building a hog wire fence.
And also look at a fence kit that makes building a hog wire fence a breeze.
But first.
What is a Hog Wire Fence?
A hog wire fence is a type of welded wire fence that feature intersecting metal rods that are welded together and hot-dip galvanized for corrosion protection.
Hog wire fence panels originated for farm farm use to keep hogs and other animals in the pen.
And for that reason, these panels are very strong.
Technically speaking, a hog panel has smaller openings at the bottom and larger openings at the top…
Where sheep and horse panels have consistently sized openings top to bottom.
Below are some common size panel options from Red Brand – one of the world's oldest and best manufacturers of woven and welded wire fence products.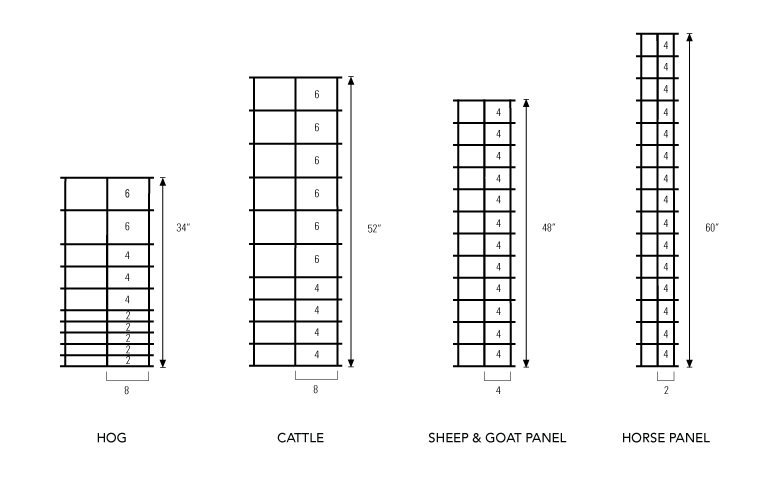 For modern fence applications, you'll find all kinds of fence panels referred to as "hog wire panels" that come in everything from traditional galvanized welded wire to black woven wire panels.
In today's fence market, hog wire fence is just as commonly used for surrounding a backyard pool or patio as it is for keeping animals in.
Hog Wire vs. Welded Wire
What's the difference between hog wire and welded wire?
While the terms are often used interchangeably, a hog wire fence panel is a type of welded wire fence.
In addition to hog wire, welded wire fence comes in a variety of different wire thickness, opening sizes, colors, etc.
Sometimes, welded wire comes in a long roll (when it's made with lighter gauge materials).
Other times welded wire comes as rigid panels.
Products referred to as hog panels, cattle panels, sheep panels and horse panels are all flat and rigid.
Traditionally, hog wire fencing was used as a way to keep animals in the pen.
But today's uses include everything from decorative home fencing to commercial fencing and more.
Hog Wire Fence Design Options
One important thing to know about hog wire fences is that they need a frame top, bottom and sides for support.
The panels by themselves aren't rigid enough to stand up and maintain rigidity across the top and bottom.
Which means you'll have to create some sort of support to keep them in place.
For animal containment, they're usually attached to wooden or metal posts.
But…
For our purposes, we're going to focus on modern design.
And this is where most people create a frame built from metal or wood.
There are pros and cons to each.
Wood frames are less expensive, but they run the risk of rotting after a few years.
That means having to replace them.
Metal frames don't rot and should last decades longer.
But they cost more to build and install upfront.
For a custom metal framed fence…
You may have to hire a welder to get the panels custom made to the right height and width for your fence.
Not ideal for most situations
So, what's a good alternative?
We've got a great solution that we'll look at here in a bit.
What we'll look at is a metal fence frame kit that makes it super easy to build a hog wire fence that looks awesome and performs even better.
Modern Hog Wire Fence Ideas
There are so many hog wire fence design ideas out there…
That it is almost impossible to list them all.
However.
We've chosen a few of our favorites to share with you.
This white hog wire fence works well to create a barrier around an this amusement park area while still looking modern and professional.
This black welded wire fence gate is ideal for a rustic feel at your hobby farm or acreage.
Here's a close-up.
Of a safety railing made from hog wire fence at a riverside brewery.
Going back to their original use…
You can use hog wire fence for horses, sheep, or other animals as part of your farm or ranch.
Hog wire panels for commercial use can be used to line the sides of walkways for a clear path…
Or to shield visitors from dangerous areas and more.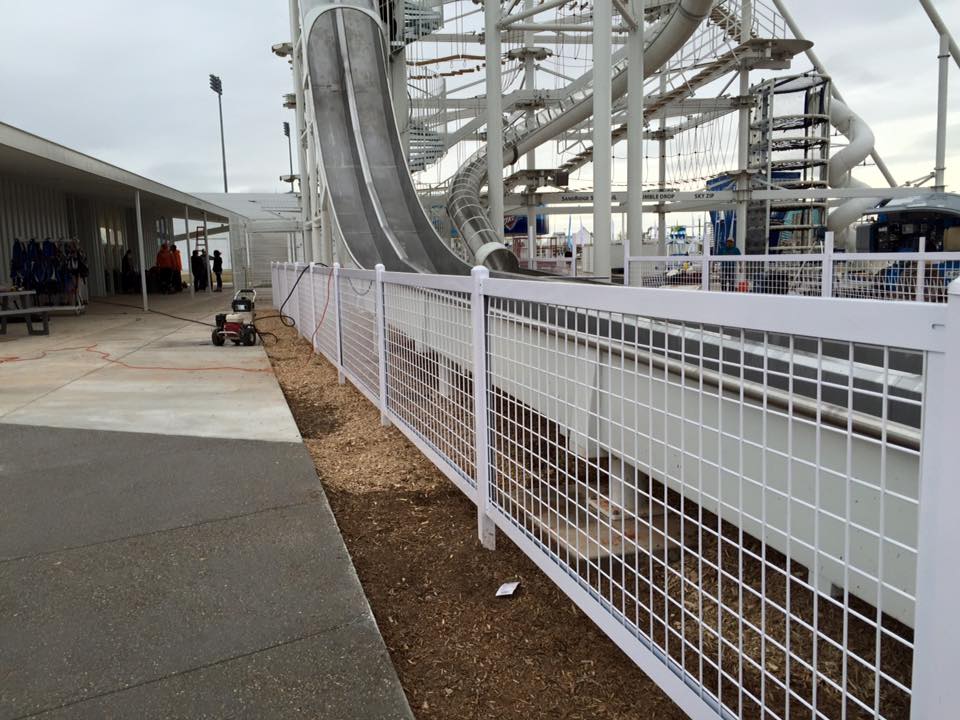 And that's just a few of the ideas you can create using a hog wire fence kit.
Now.
If you really like the look of wood and metal…
Check out this wood and chain link ranch rail fence design by FenceTrac.
It might be a good alternative to building a hog wire fence.
Where You Can Install a Hog Wire Fence
Where's a good place to build a hog wire fence?
Anywhere you'd like.
These fences look great in a variety of different areas.
Want a few examples?
You could install it in your backyard in lieu of a chain link fence.
You can also use it to surround an employee parking lot or commercial storage area.
Hog wire fences also make great barriers around places where you want people to stand in line.
Here's a sleek-looking hog wire fence used as a patio railing at a riverside brewery.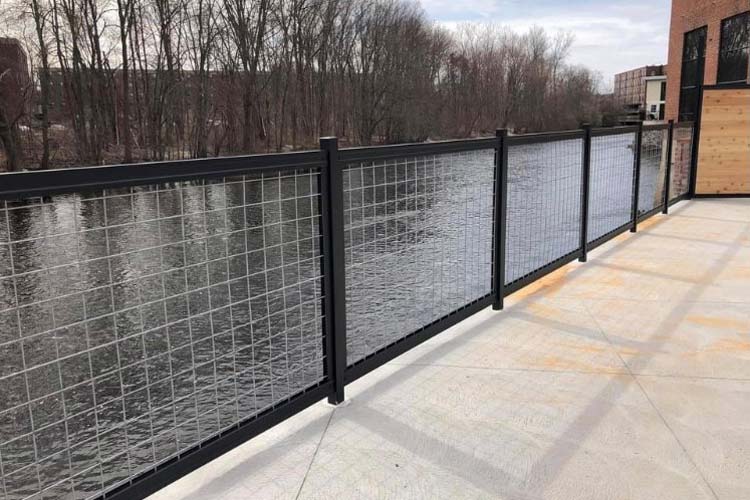 Modern-style apartment balconies look great with black or white hog fence panels.
Add them to the sides of railing or next to stairs.
You can create an animal pen or horse corral.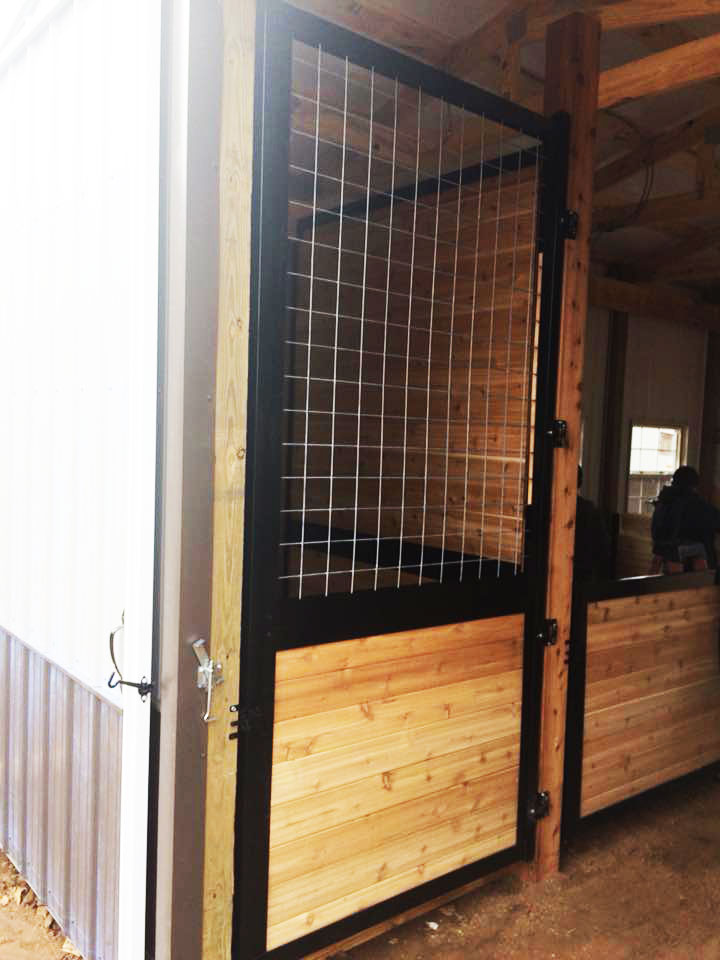 Even dog kennels and pet play areas can benefit from this type of fencing.
Taller hog wire fences are a good choice for apartment or community swimming pool barriers.
And, of course…
You can still use them for their traditional reason.
On horse or equestrian property and around livestock.
How to Build a Hog Wire Fence With a Kit
Now let's take a look at the FenceTrac fence frame kit.
Building a hog wire fence with this kit is easier than you might realize.
FenceTrac is an innovative solution that makes building elegant and modern custom fences simple.
This patented fencing system features a special U-channel frame design.
Side channels attach to metal posts with self-tapping screws.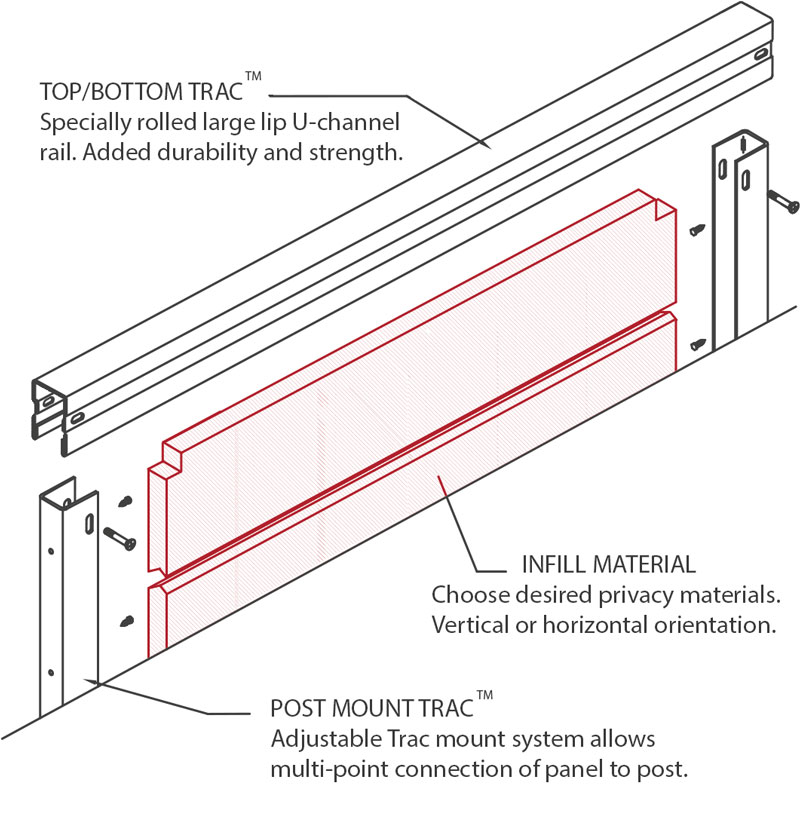 Each hog wire fence panel is held securely in place inside a bolt-together metal frame that attaches to the top and bottom of each side channel.
In fact,
There are only four bolts per frame.
You'll want to embed your posts in concrete.
Or.
Use our surface mounted posts to bolt your fence to concrete or to install a fence on a retaining wall.
When it comes right down to it…
The patented FenceTrac fence kit is much easier than trying to design or build your own frames.
While still giving you a solid hog wire fence that is sturdy enough for a variety of uses.
Where to Buy Hog Wire Fence Panels
If you're looking for traditional hog wire fence panels, there are numerous places that sell them.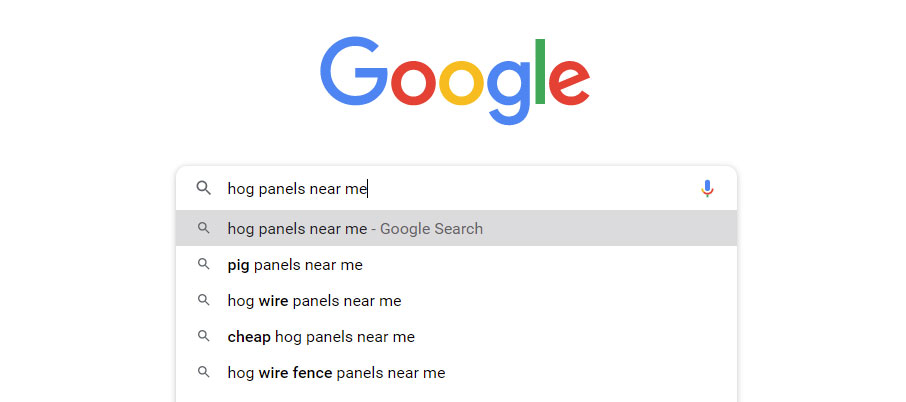 Here are a few.
Lowes has them in stock in many locations around the country.
Home Depot sells welded wire panels as well.
Tractor Supply locations sell lots of quality hog fence panels.
Atwoods a regional farm and ranch store, sells hog panels in varying sections and styles.
Wild Hog offers panels in a variety of thickness and color options.
Any local farm and ranch supply store will likely carry hog, cattle, sheep panels.
In addition to these, you can always try your local feed store.
Many carry this type of fencing for agricultural use and have decent pricing.
Check Out What Else You Can Do With FenceTrac
If you're not 100% set on hog wire fencing, you might consider some other options.
FenceTrac accommodates infill materials of up to 1-inch thick.
Design your fence with vertical or horizontal slats.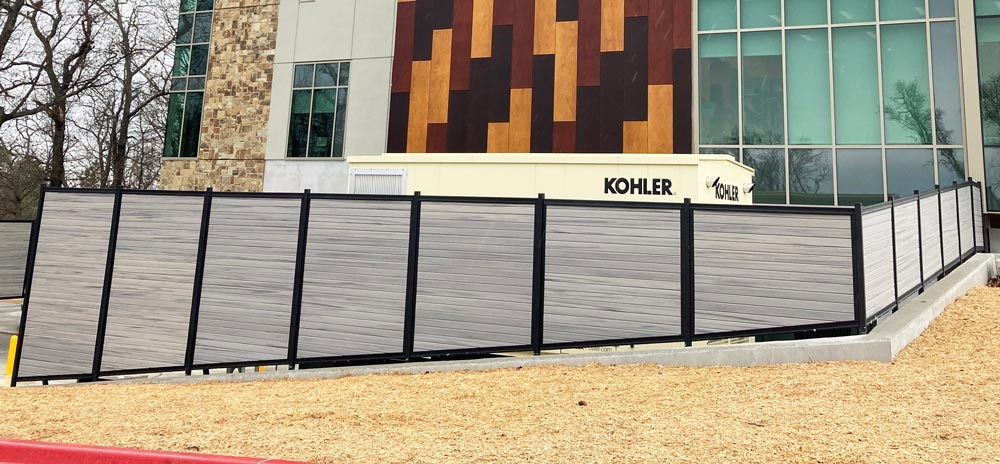 While we don't supply hog panels, we do offer cedar wood and PVC infill options.
But some property owners supply their own as well.
Using the Fencetrac system, fences can be design with a variety of materials such as:
Western red cedar
Eastern red cedar
Cypress boards
Treated pine
Ipe boards
Wood pallets
Barn wood
Vinyl planks
Composite planks
PVC planks
Hardie board
Metal screen
Wood rails
Black slats
White slats
Metal sheets
Metal panels
Perforated metal
Etched metal
Lattice panels
Wood & iron
Welded wire
Cattle panels
Reclaimed wood
Corrugated metal
Ribbed metal
Stone veneer panels
Brick veneer panels
Bamboo
Wrought iron
Take a look at some of the unique fences that were built using FenceTrac.
In Conclusion
If you need to build a modern-looking hog wire fence.
You've got several options in terms of design for the fence frame and the panels you use inside the frame.
We highly recommend metal for your frame.
Since, you don't want to need to replace the fence anytime soon.
If you're interested in the FenceTrac system, request an Instant Quote online.