The FenceTrac System
For years, property owners who purchased traditional privacy fencing have been frustrated by rusty nails, cracked & rotting wood…
And other unavoidable maintenance issues that come with owning a standard wooden fence. And nearly every privacy fence looks just like the one next door.
FenceTrac is different.
With FenceTrac, you pick your own style. Our unique, patented fencing system offers residential and commercial property owners the ability to use nearly any type of infill.
…red cedar, corrugated metal, bamboo, welded wire, composite, vinyl, PVC, hardie board, metal screen, wood rails or anything else…
To create a truly one-of-a-kind fence that matches the look and style of your property. And lasts years longer than a traditional wooden fence.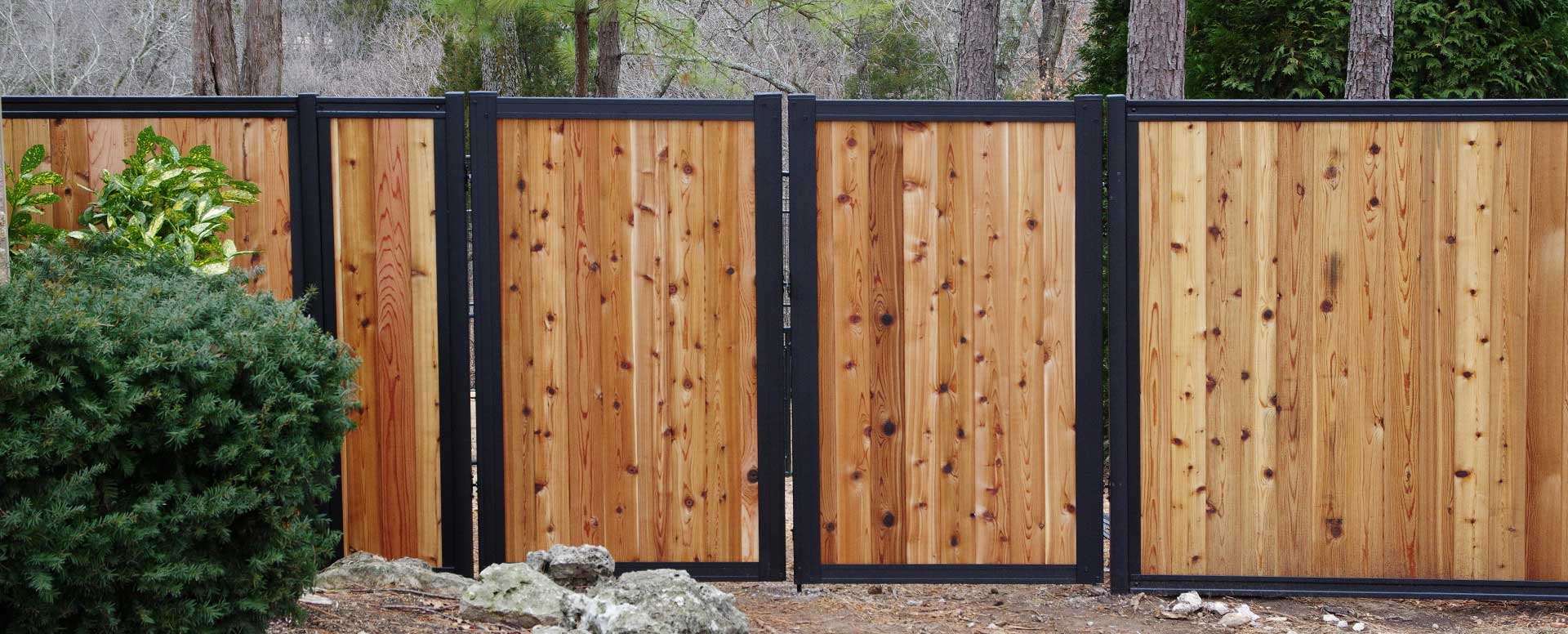 Standard FenceTrac
Standard FenceTrac is designed to be used with a variety of infill material placed vertically or horizontally.
Simple & fast assembly. Infill materials slide into U-shaped FenceTrac rails. No need for hundreds of nails, screws, etc.
Typical installations require just (4) bolts per panel & self-tapping screws to attach Post Trac siderails to each post. (Hardware included)
If the need arises, infill materials can be easily swapped out or replaced by removing the top rail while leaving all other rails in place. When using standard FenceTrac, we recommend tongue & groove infill to provide the most strength and privacy.
The standard FenceTrac kit includes: (1) Top Rail, (1) Bottom Rail, (2) Siderails (for post mount) and hardware to assemble metal components. Top & bottom rails are available in 72″ or 96″ lengths. Siderails are available to accommodate 48″, 72″ or 96″ panel heights.
Patented FenceTrac U-channels are manufactured from galvanized 18 ga. steel for superior strength and durability. Bottom rails include weep holes to shed water. Mounting points include slotted holes for flexible installation tolerances.
Powder Coat Finish
FenceTrac comes in with a durable textured matte black powder coat finish consisting of a multi-stage pre-treatment/wash (with zinc phosphate) followed by a duplex cathodic electrocoat system consisting of TGIC polyester powder coat, providing an industrial, weather-resistant finish.
FenceTrac is designed to be used with nearly any type of rigid infill, so you can create the exact look you want. We offer standard infill choices, or you can source your own infill materials locally.
LONG LEAD TIME ON INFILL: Due to supply issues related to COVID-19, some infill materials require long lead times. Frame kits are unaffected.
Poly Vinyl
Colors shown on screen may vary from actual color.
Unlimited Infill Options
Use your own infill materials to create the exact look you want for your fence.
FenceTrac offers complete kits including: fence posts, hinges, gates and other hardware needed to build your fence. We also provide custom-built gates for specific requirements.
Steel Fence Posts
Heavy-duty steel fence posts are available from 2″ to 4″ square in black, bronze, tan or white. Includes low-profile cap.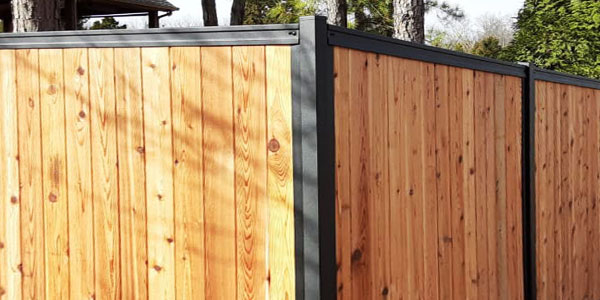 INSTALLATION INSTRUCTIONS
Step-by-Step Instructions
ONE – Set Posts using specified length from Inside-to-Inside posts.
Top/Bottom Tracs come in 2 standard lengths: 72" or 96"
TWO – Place Bottom Trac (with drain holes) on the ground between posts.
THREE – Attach Post Tracs to the post by using supplied self-drilling screws.
Insert Post Tracs into the Bottom Trac partially before drilling them into the Post. This helps installation of the Bottom Trac when it is close to the ground. Clearance is typically too tight to slide Bottom Trac in place after Post Tracs are attached.
FOUR – Raise the Bottom Trac up to the Post Trac and align the slotted holes.
Insert the bolt and nut into the Bottom Trac and hand tighten.
FIVE – Before inserting Infill Material, notch the first and last pieces to clear the bolts and nuts.
Recommend at least 1-1/2" x 1-1/2" of material be notched out.
SIX – Insert first Infill into the Bottom Trac. Continue sliding Infill into place until you reach the last piece.
If using H-Tracs, install using the same method as Infill Material.
SEVEN – If using Tension Springs, install in Post Tracs with supplied hardware.
EIGHT – Insert the final piece of Infill by sliding it from the top into the Post Trac (and if applicable H-Trac).
The final Infill piece should also be notched before inserting. In some situations, the Infill itself may need to be cut down in width.
NINE– Place Top Trac over the Post Tracs / H-Tracs / Infill Material. Insert bolts and nuts and then tighten ALL exposed hardware for finish.