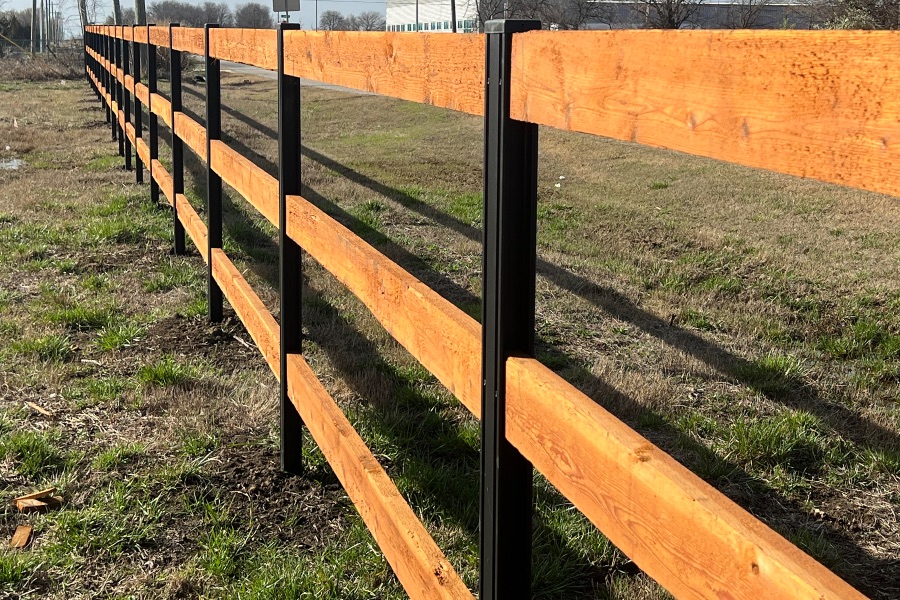 HighPlains Ranch Post is a new product line under the Fencetrac brand – an innovative fencing solution designed to meet the needs of property owners who are looking for a reliable and versatile fencing option.
With exceptional durability, functionality, and aesthetics, HighPlains Ranch Post is sure to become a popular choice for those who want a fence that will stand the test of time.
Crafted from high-quality aluminum 6063-T5, these fence posts are lightweight, corrosion-resistant, and built to last.
Moreover, HighPlains Ranch Post is compatible with a variety of fence styles and materials, making it a versatile option that can be tailored to your unique needs.
Get ready to discover the benefits of HighPlains Ranch Post by FenceTrac, and enjoy a fencing solution that offers both style and substance for your property.
A modern, western-style fence option that's versatile, stylish and lasts years longer than traditional fence options.
HIGHPLAINS RANCH POST BENEFITS
Customizable
HighPlains Ranch Post can be tailored to your specific fencing needs, allowing for a personalized and unique look on your property.
Universal
Our fence posts are designed to work with a variety of fence styles and materials, providing flexibility and versatility for any project. Posts are designed to allow up to 1 3/4″ thick board
High-Quality Materials
Made with durable aluminum 6063-T5, our posts are lightweight, rust-resistant, and designed to withstand harsh weather conditions.
20-year Warranty on Finish
The powder coated surface on all framework by FENCETRAC® is guaranteed under normal and proper usage, against chipping, cracking, peeling, blistering or corroding for a period of twenty (20) years from the original purchase date. Normal and proper usage does not include physical damage, abrasion or exposure to salty environments
to the protective coating.
Lifetime Structural Warranty on Post
HIGHPLAINS RANCH POST SPECIFICATIONS
Item Specifications
Fence Height: 4ft, 5ft
Ranch Post Length: 6ft, 7ft
Post Spacing: 8ft o.c.
90º corner
Endcap for Universal Post
Aluminum 6063-T5
TGIC Polyester Powder Coat Textured Black Finish
HIGHPLAINS RANCH POST GALLERY
HIGHPLAINS RANCH POST DOWNLOADS