The FenceTrac System
For years, property owners who purchased traditional privacy fencing have been frustrated by rusty nails, cracked & rotting wood…
And other unavoidable maintenance issues that come with owning a standard wooden fence. And nearly every privacy fence looks just like the one next door.
FenceTrac is different.
With FenceTrac, you pick your own style. Our unique, patented fencing system offers residential and commercial property owners the ability to use nearly any type of infill.
…red cedar, corrugated metal, bamboo, welded wire, composite, vinyl, PVC, hardie board, metal screen, wood rails or anything else…
To create a truly one-of-a-kind fence that matches the look and style of your property. And lasts years longer than a traditional wooden fence.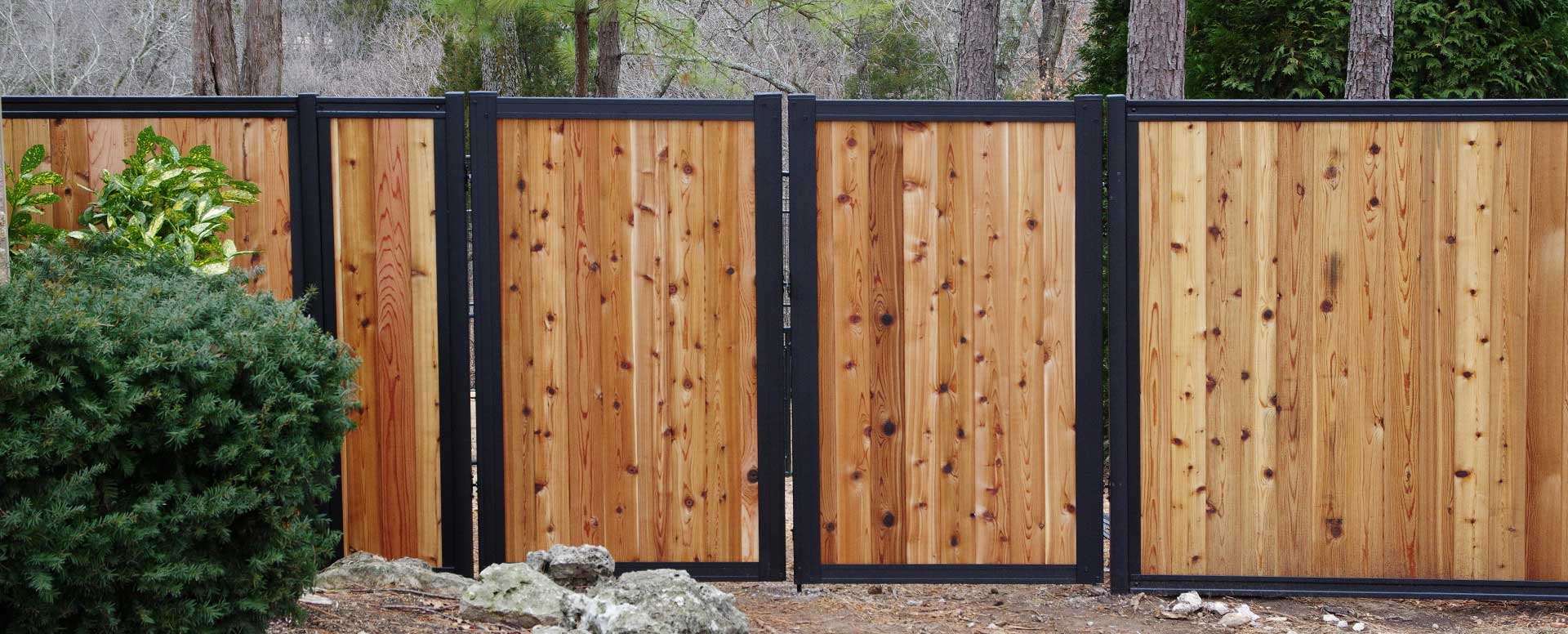 Simple & fast assembly.
Infill materials slide into U-shaped FenceTrac rails. No need for hundreds of nails, screws, etc.
Typical installations require just (4) bolts per panel & self-tapping screws to attach Post Trac siderails to each post. (Hardware included)
If the need arises, infill materials can be easily swapped out or replaced by removing the top rail while leaving all other rails in place. When using standard FenceTrac, we recommend tongue & groove infill to provide the most strength and privacy.
FenceTrac is designed to be used with nearly any type of rigid infill, so you can create the exact look you want. We offer several standard infill choices, including maintenance-free composite.
BEST ›

LuxeCore™ Premium Composite

LuxeCore™ is FenceTrac's own proprietary composite fencing product. Composed of a cellular PVC core, encased in ASA (acrylic styrene acrylonitrile), LuxeCore™ composite is a super durable, maintenance-free fencing solution that comes with a limited lifetime warranty. ASA is commonly used in the auto industry and is known for excellent weatherability. Each composite plank is 1″ thick with 5-7/8″ of coverage per plank and is available in 6′ lengths.
BETTER ›

Poly Vinyl

PVC fencing offers a great maintenance-free infill option for your fence. Colors shown on screen may vary from actual color. Each PVC plank is 7/8″ thick with 11-1/4″ of coverage per plank and is available in 6′ or 8′ lengths.
GOOD ›

Western Red Cedar

Western Red Cedar wood planks are smooth on one side, rough on the other and include tongue & groove joints for rigidity. Specified as #2 grade (or better) tight knot. This is a good choice for a classic wood picket when you want a natural look. Can be left to age naturally or stained. Each cedar plank is 7/8″ thick with 5-1/2″ of coverage per plank and is available in 6′ or 8′ lengths.
CEDAR INFILL POLICY
Cedar infill may contract or expand with seasonal variations in temperature and humidity and may need to be adjusted within the frame during these times. Variations in cedar planks are normal. With #2 grade cedar, it is not uncommon to receive some pickets with cracks, loose knots or blemishes. We ship extra to cover normal cull rates (a common practice in the industry). We do not accept returns or provide free replacements for unsatisfactory milling of cedar boards, except on rare occasions at our sole discretion. We have multiple other maintenance-free infill options.
Unlimited Infill Options
Use your own infill materials to create the exact look you want for your fence.
FenceTrac offers complete kits including: fence posts, hinges, gates and other hardware needed to build your fence. We also provide custom-built gates for specific requirements.
Steel Fence Posts
Heavy-duty steel fence posts are available from 2″ to 4″ square in black, bronze, tan or white. Includes low-profile cap.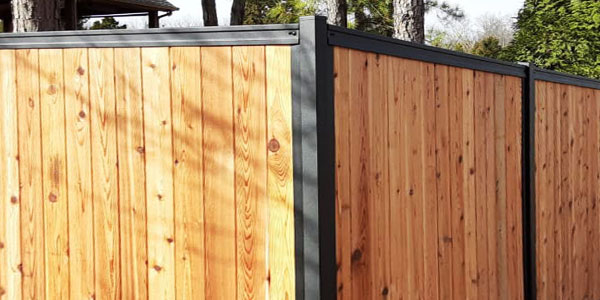 INSTALLATION INSTRUCTIONS
Step 1 – Set Posts
Set posts using specified length of Top/Bottom Tracs.
Top/Bottom Tracs come in two standard sizes – 72" long & 96" long.
Step 2 – Set Bottom Trac
Place Bottom Trac on ground between posts.
Bottom & Top Tracs are identical and interchangeable.
Step 3 – Attach Post Tracs
Attach Post Trac to post using supplied self-drilling screws.
Prior to drilling, loosely insert lower ends of Post Tracs into Bottom Trac.
This helps installation of Bottom Trac when Bottom Trac is to be mounted near ground.
Clearance is typically too tight to slide Bottom Trac in place after mounting Post Tracs.
Step 4 – Attach Bottom Trac
Raise Bottom Trac up to Post Tracs and align slotted holes.
Insert supplied bolt & nut on each end and hand tighten.
Step 5 – Notch Infill Material
Before inserting infill, notch out the first and last pieces of infill materials where corners meet Trac connection points to clear bolt/nut.
Remove at least 1-1/2" x 1-1/2" (not more than 3"x3") of material at these corners.
Step 6 – Insert Infill Material
Horizontal Layout

When using tongue & groove planks, insert groove side down, tongue side up.
Insert infill material from top, sliding down into bottom trac.
Continue adding infill materials till you reach the last piece.
Top or bottom infill board may need to be trimmed to fit.

Vertical Layout

Insert infill materials starting at one side, sliding each board into the next.
Slide the final board into place from the top.
Final board may need to be trimmed to fit.

Infill materials are held in place by Tracs & do not require mechanical fastening.
Step 7 – Attach Top Trac
Place Top Trac over Post Tracs, and align slotted holes.
Insert supplied bolt & nut on each end and hand tighten.
Step 8 – Finish Panel
Tighten all hardware to secure Top & Bottom Tracs to Post Tracs.
Insert post cap onto each post.
The standard FenceTrac kit includes: (1) Top Rail, (1) Bottom Rail, (2) Siderails (for post mount) and hardware to assemble metal components. Top & bottom rails are available in 72″ or 96″ lengths. Siderails are available to accommodate 48″, 72″ or 96″ panel heights.
Patented FenceTrac U-channels are manufactured from galvanized 18 ga. steel for superior strength and durability. Mounting points include slotted holes for flexible installation tolerances.
Click on the catalog pages below to view detailed information. Scroll down for drawings & downloads.