The Ultimate Collection of
Privacy Fence Ideas
Create Any Design You Want With This Fence Kit
A privacy fence can do amazing things to jazz up the curb appeal of your property.
Especially when you build a unique privacy fence that looks different…
…and better than the typical wood fence you see around backyards everywhere.
Let's look at some privacy fence ideas using a DIY fence kit – that allows you to create the exact look you want for your property.
A Different Kind of Privacy Fence
First, let's take a look at a different kind of privacy fence.
The image below shows a FenceTrac privacy fence on the left along with a traditional wood privacy fence on the right.
FenceTrac is a privacy fence kit that offers a great solution for DIY homeowners, fence contractors and commercial property owners who want to build a unique privacy fence for their property.
You'll notice a few distinct differences between the fences above. The fence on the right uses dog ear pickets nailed to rails on the back side of the fence. The fence is supported by wood posts. The fence on the left includes a metal frame mounted to metal posts with wood planks secured inside the frame.
The FenceTrac rail system opens up unlimited possibilities to create a privacy fence that looks completely different.
And can outlast a traditional wooden privacy fence by a decade or longer.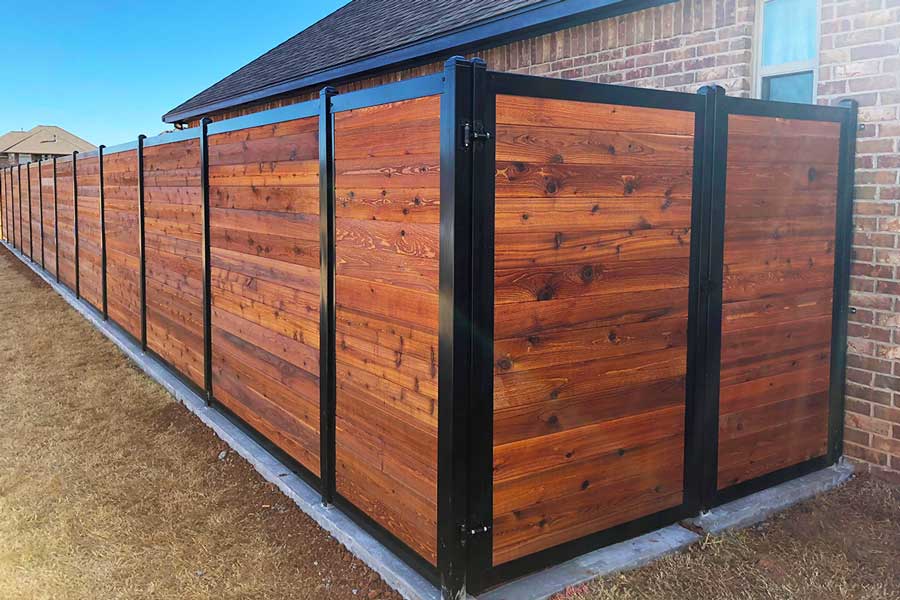 Privacy Fence Ideas for Your Backyard
Building a privacy fence can seem a little overwhelming.
If you're planning to take on the project yourself and build a DIY fence, you might be asking:
What kind of wood do you use for a privacy fence?
How far apart do you space the pickets?
How do you prevent gaps between pickets?
Or you may be asking… how do you build a unique privacy fence?
Let's look at some unique privacy fence ideas for your backyard.
The combination of wood and black metal make this privacy fence stand out from neighboring fences.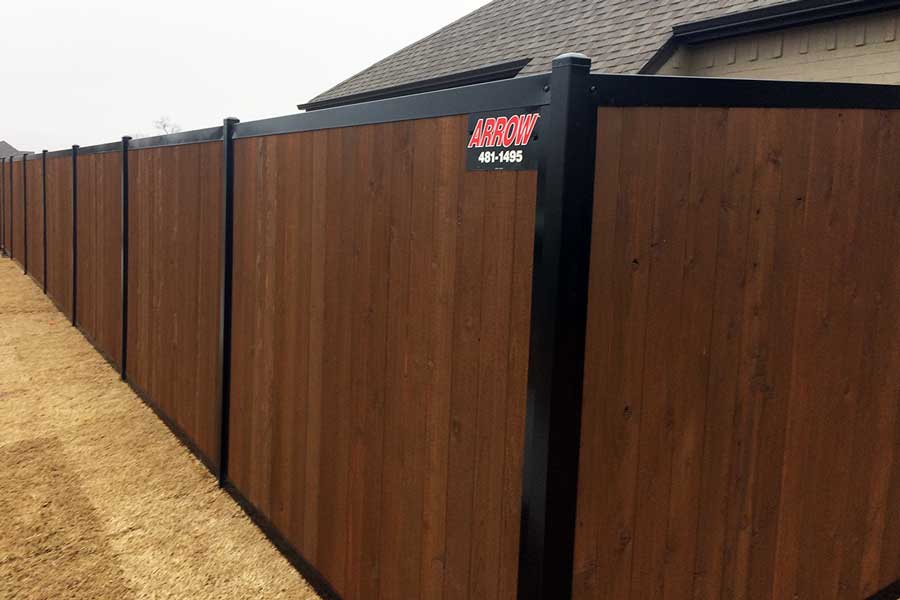 Here is a horizontal privacy fence that uses metal posts and natural tongue and groove pickets.
This privacy fence includes a red wood stain that brings out the warm gold color of western red cedar. You'll notice there are no gaps in this privacy fence. It's 100% private.
This privacy fence is stained gray and stair steps down a steep slope.
The corner of the fence is anchored by a rock pillar.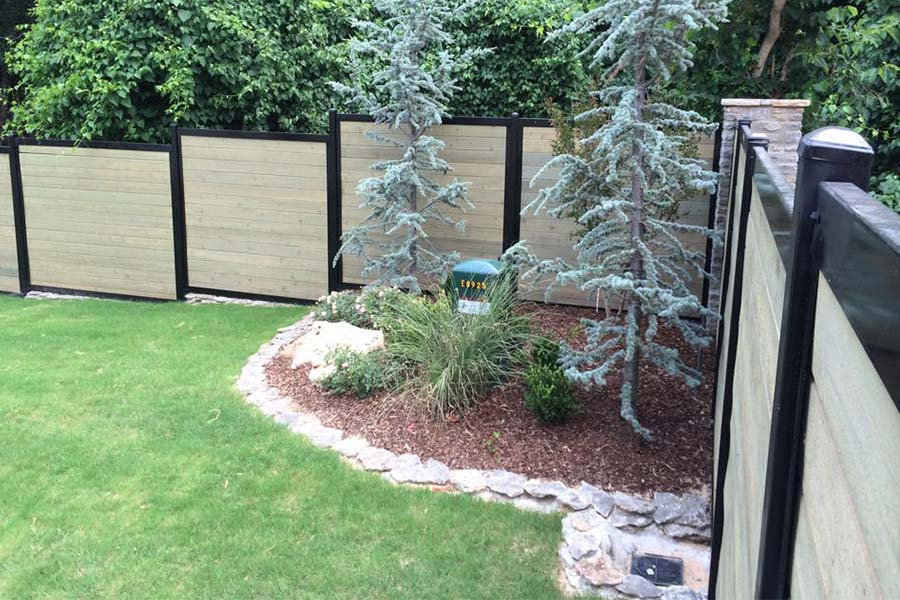 This privacy fence creates a no gaps barrier that provides security for several homes in this neighborhood. It's stained a dark tinted cedar color.
Why not support your favorite team with your privacy fence?! Check this out.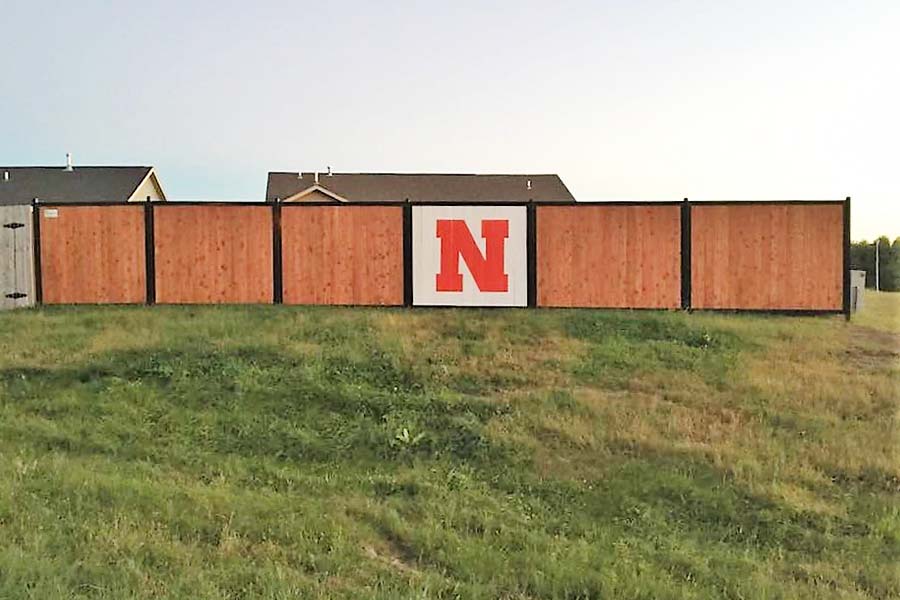 This backyard looks like a beautiful place to relax.
When you invest in a privacy fence that will stand for decades instead of years, you can afford to invest in landscaping to compliment your fence.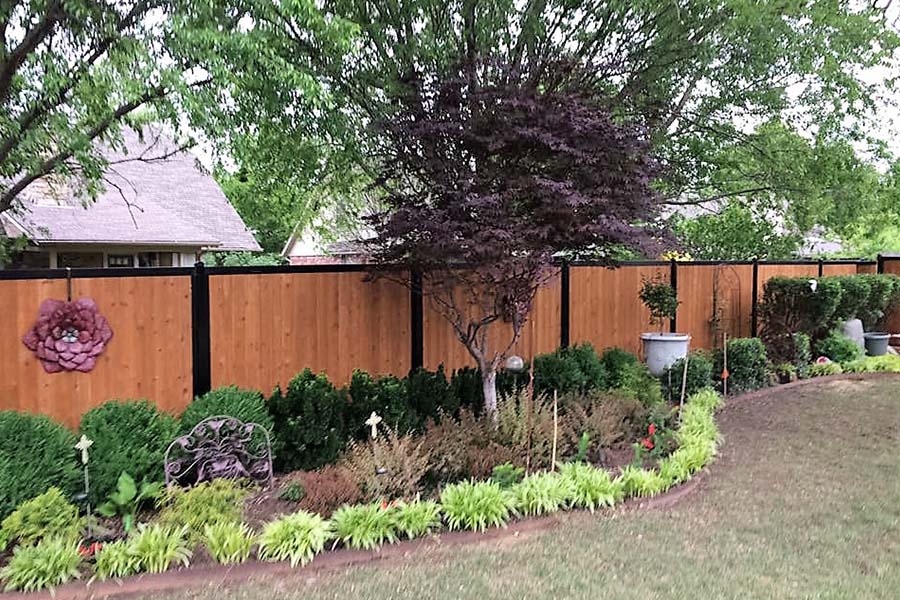 This short privacy fence borders the front of this house. The black metal posts and rails combined with light colored wood adds elegance to this already beautiful home.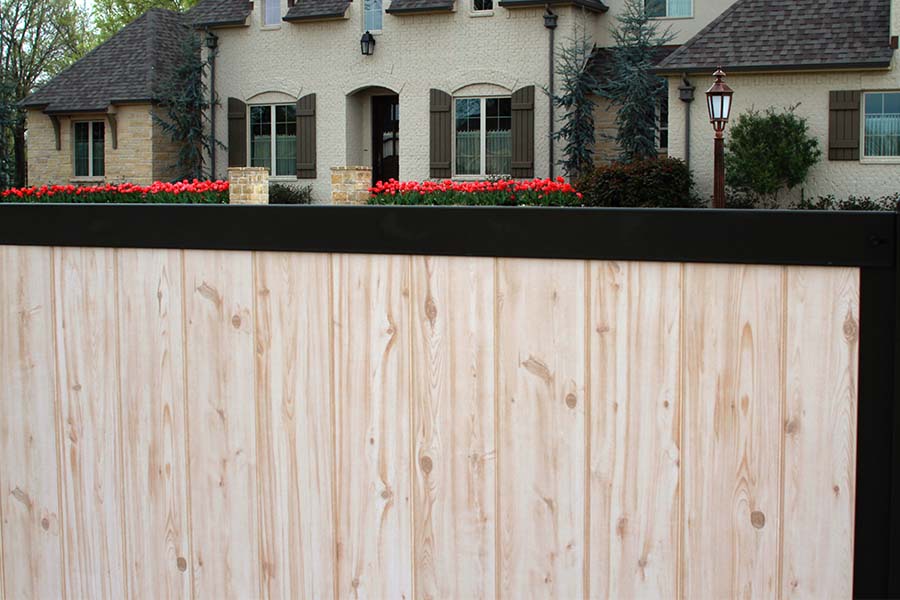 With the FenceTrac system, you can use any infill you want. Here is a bamboo privacy fence, stained with a dark brown stain.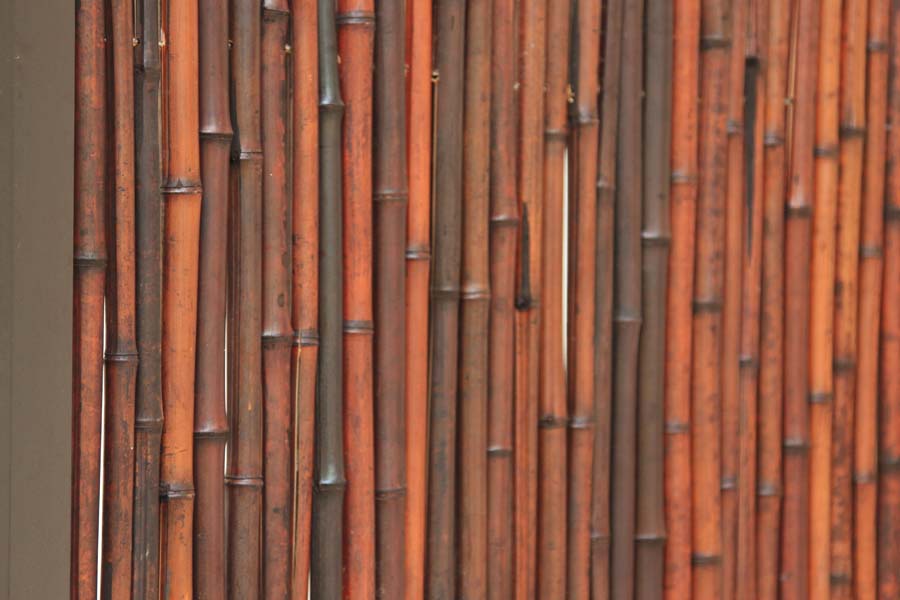 This privacy fence uses horizontal olive colored composite pickets that will last and last. View other colors of composite fence planks.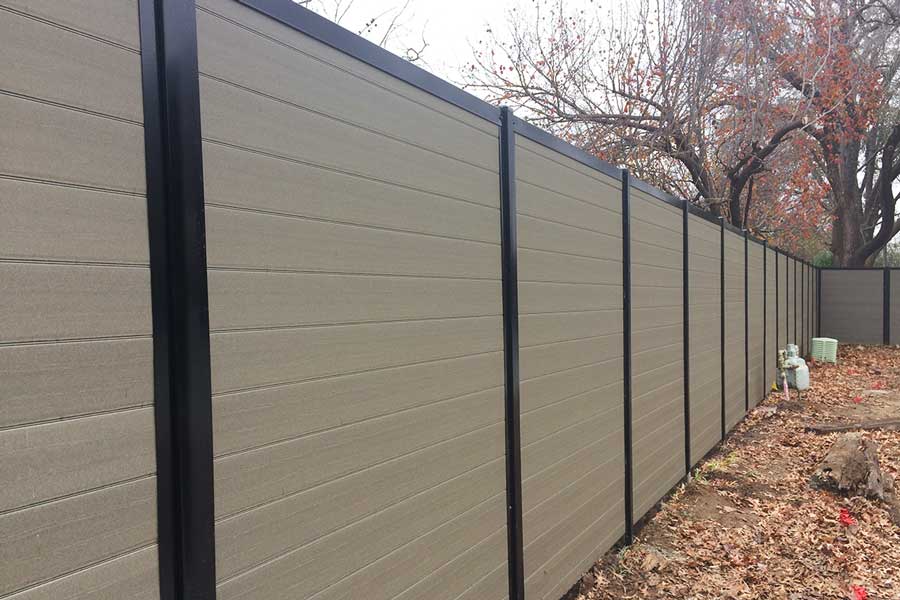 This fence combines two very popular styles to create an iron and wood fence. Vertical metal H-tracs combined with tongue and groove stained cedar to create a very strong and elegant looking privacy fence.
Here are a few more examples of this iron and wood type of privacy fence style. The additional metal also makes this fence super strong.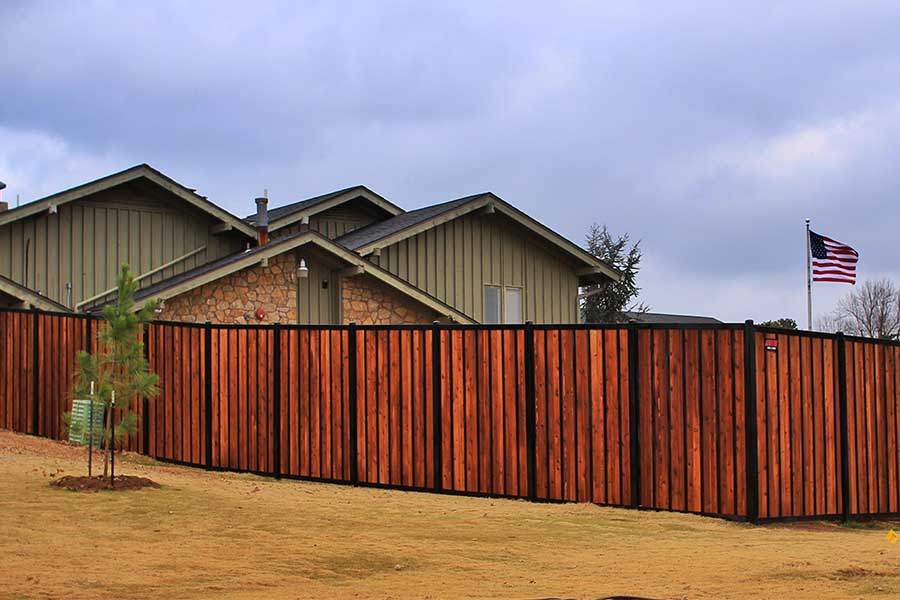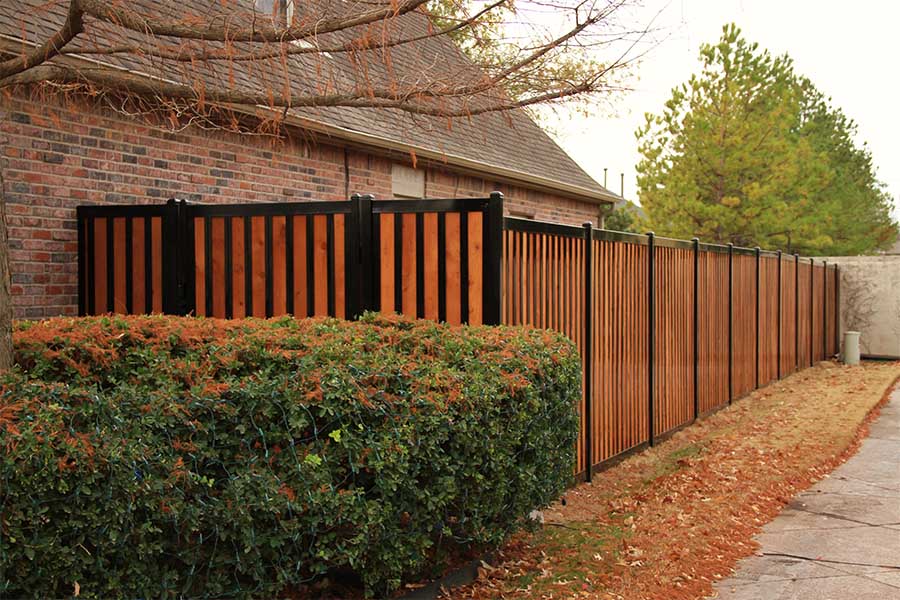 Very elegant fence next to this ivy covered wall.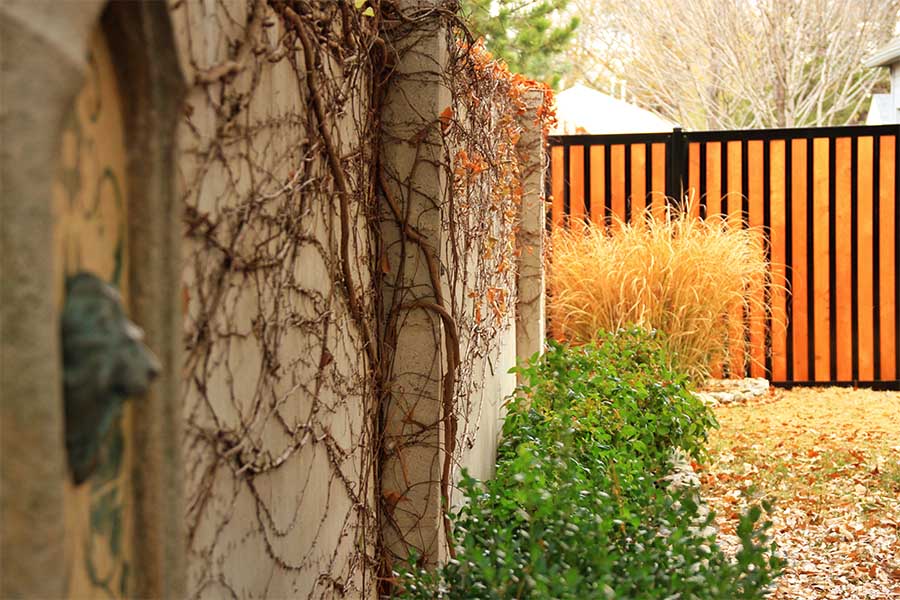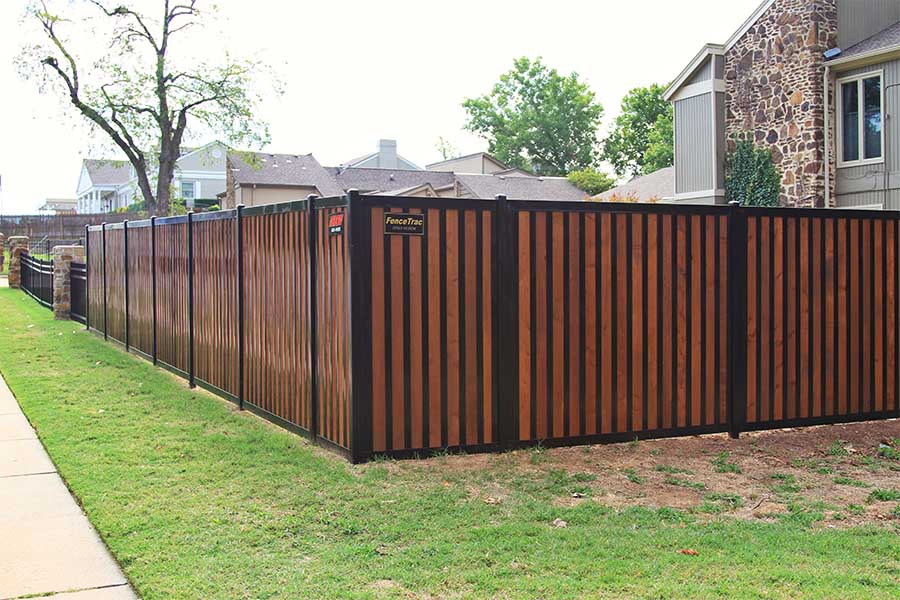 While a traditional wooden privacy fence allows some visibility between the pickets, a FenceTrac fence with tongue and groove pickets closes all gaps, so you have complete privacy.
Check out the look of these two homes – both bordered by a FenceTrac fence system using traditional wood pickets.
Most privacy fences have a good-looking side that faces out…
…and a not-so-good-looking side (the one with the horizontal rails) that faces into your backyard. FenceTrac fences look great on both sides. Check out how this fence completes the ambiance of this backyard garden shed area.
Stunning. White vinyl privacy fence with a strong metal frame.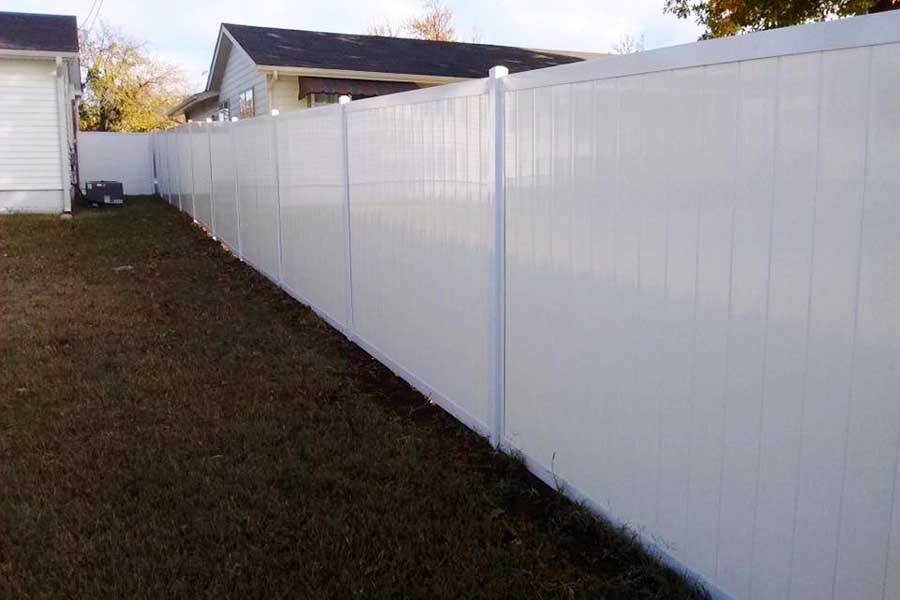 Here's a metal privacy fence that uses galvanized corrugated steel panels in place of wood. Wow!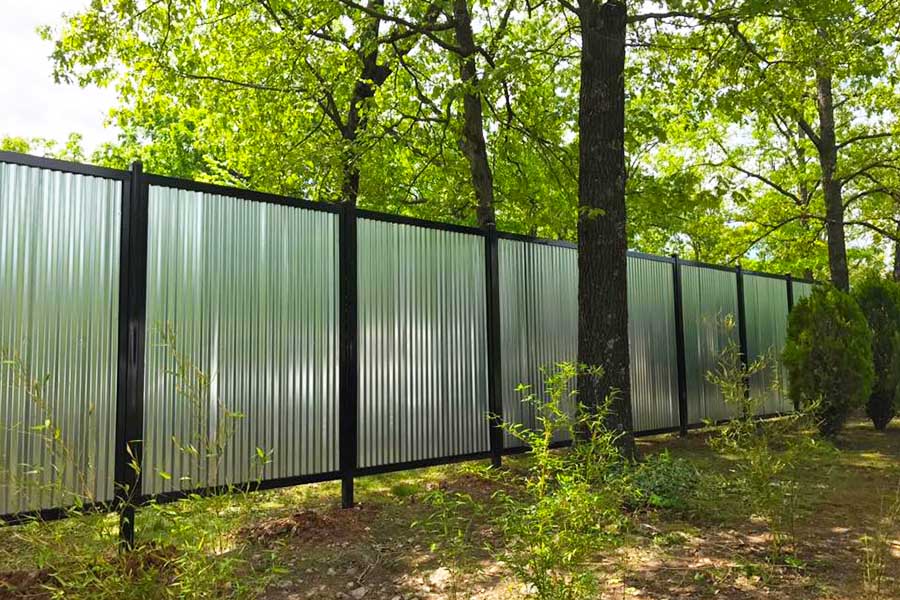 Darker western red cedar wood stained privacy fence with black frame.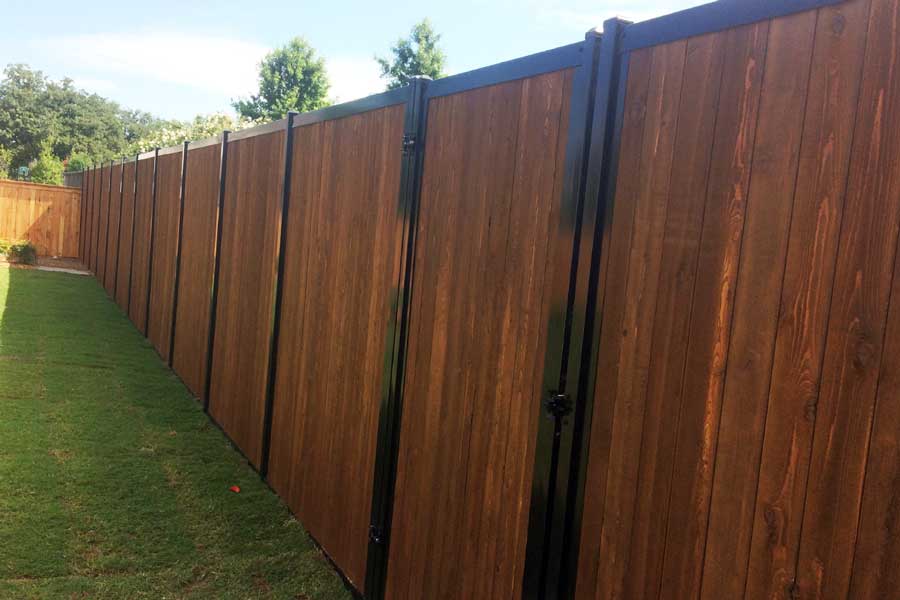 This privacy fence design includes wide horizontal planks, black metal posts and a wood cap.
Here's a bamboo privacy fence between the pool and pavilion.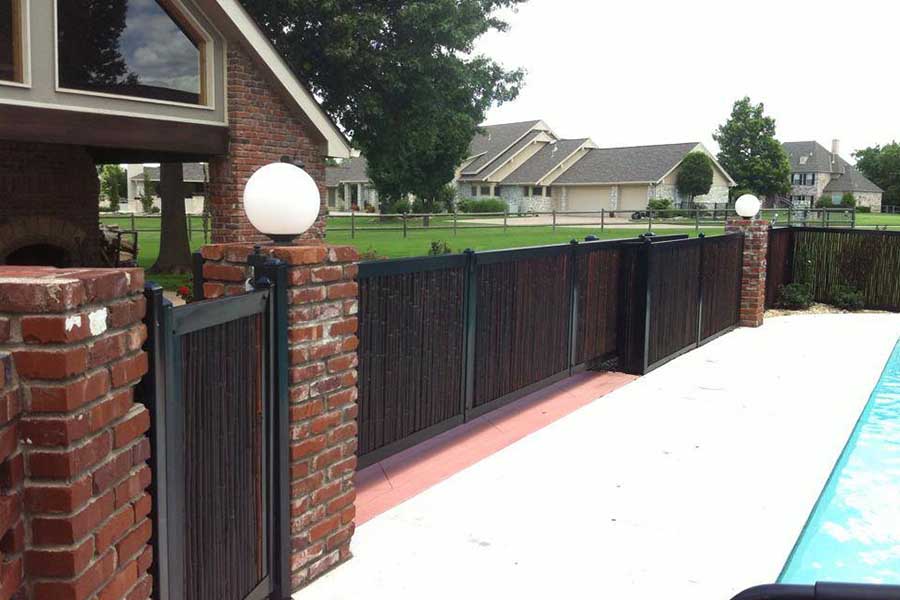 Look at the design of this white frame privacy fence.
Gate Ideas for Privacy Fences
Most privacy fences include a standard wood gate built with dog ear wood pickets and a hinge & latch kit.
These all-wood fence gates are prone to sagging and dragging on the ground over time.
Here are several privacy fence gate ideas that will not sag.
The first is a simple wrought iron swing gate mounted to FenceTrac fencing.
Here is a bamboo walk through fence gate.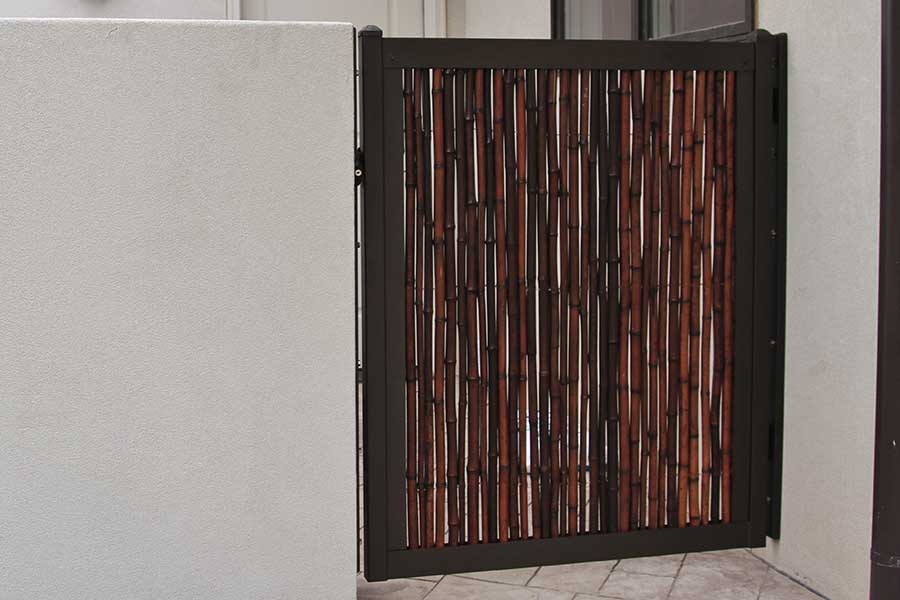 Another walk-through gate that matches the fence perfectly and built with heavy-duty hinges.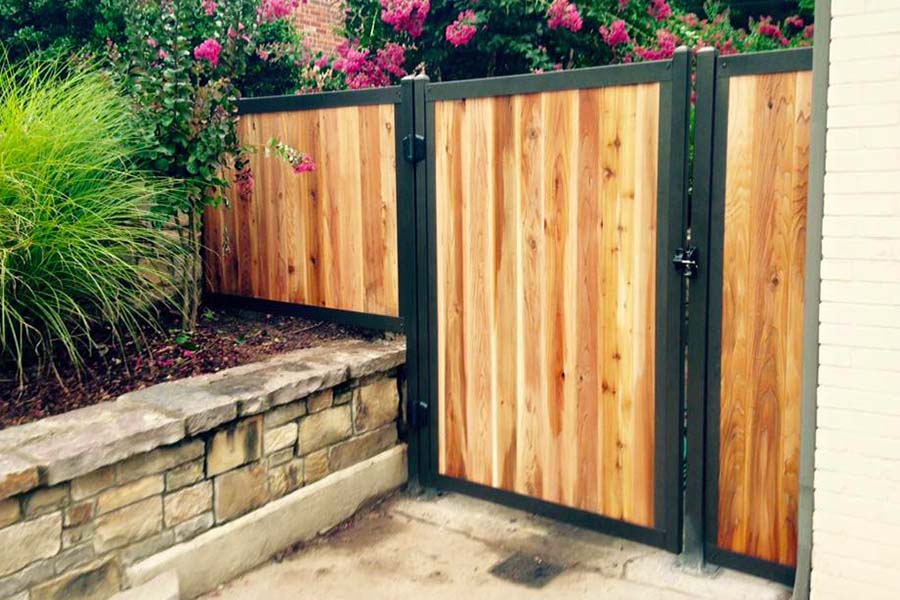 A metal and wood fence gate like this one provides a super secure barrier for your fence.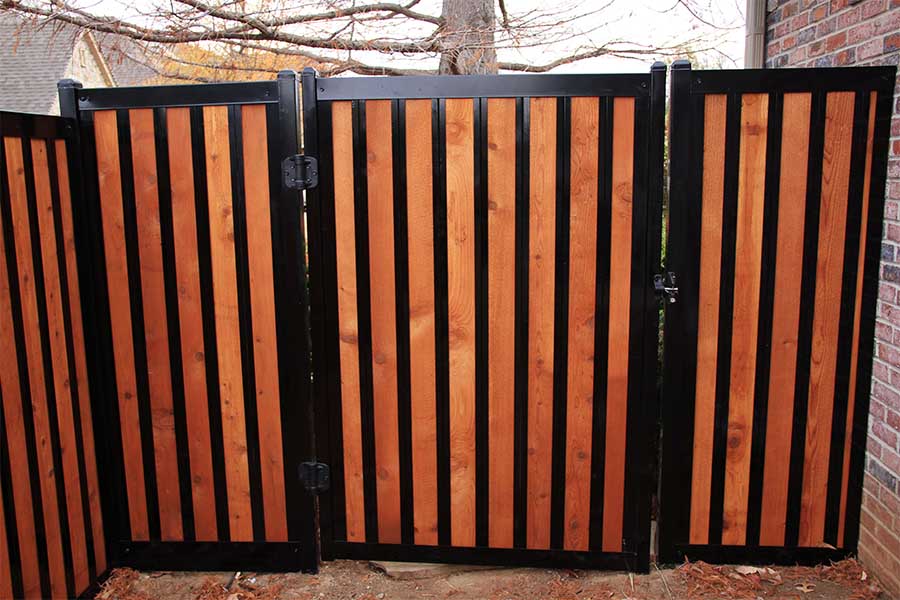 Here's another decorative wrought iron walk-through swing gate with an arch top.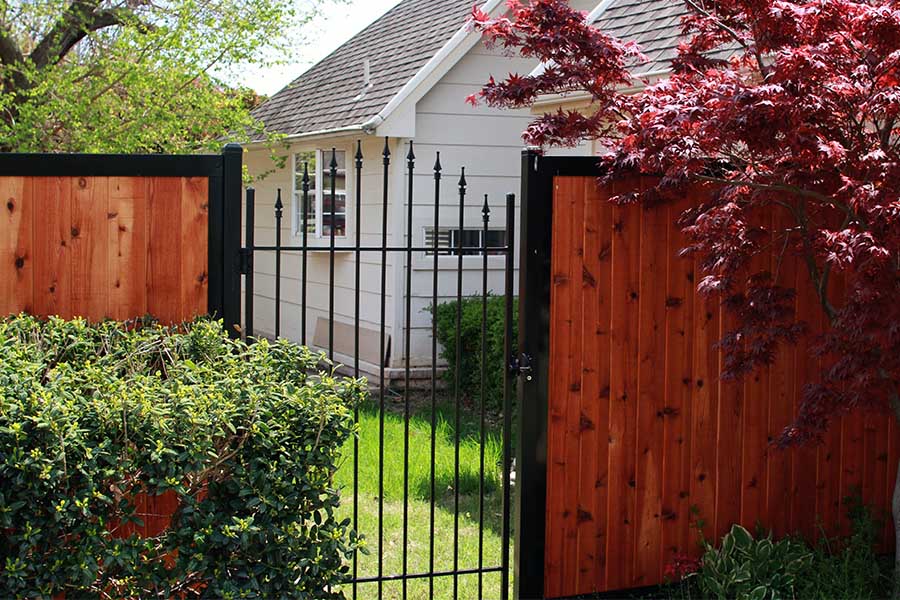 And this fence gate combines wood with black lattice and metal rails to add some charm to this side yard.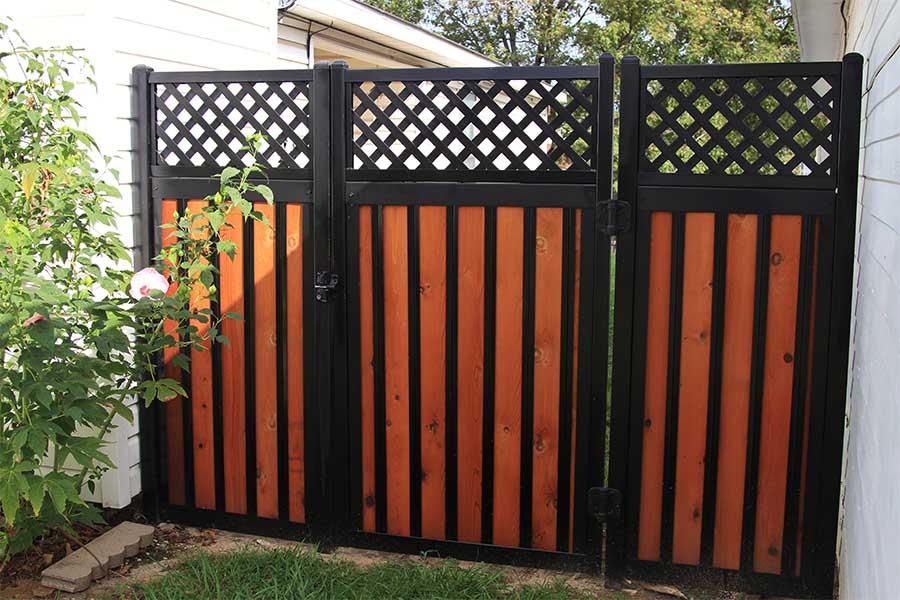 This gate is built to match the slope of the yard.
If you need a bigger gate, you might enjoy this rolling gate. This rolling gate is super easy to open and close.
Plus, it's bamboo!
Here is an elegant privacy fence with a white metal frame and knotty cedar wood infill.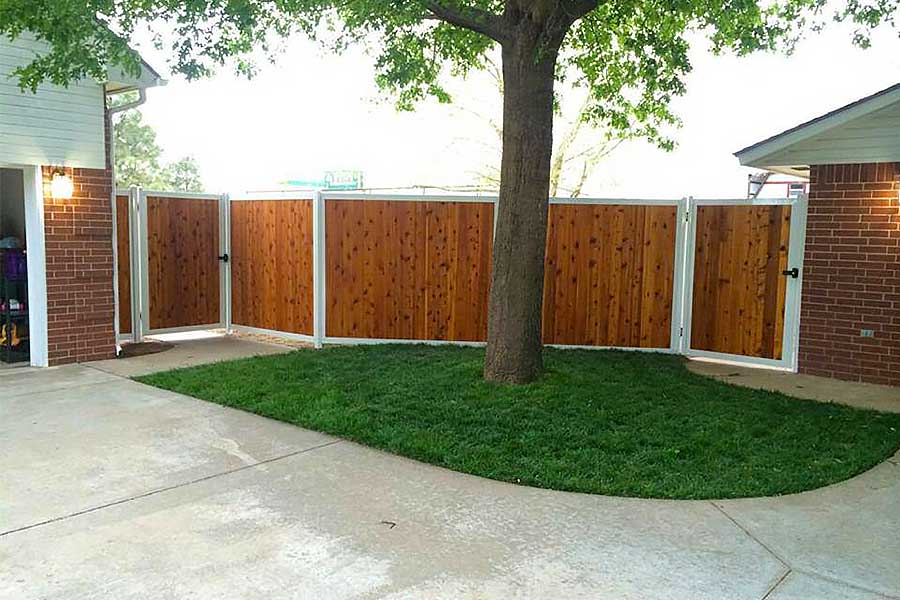 Patio Privacy Fence Ideas
If you love to sit on your patio, it's nice to have a little privacy. Check out this silver metal framed horizontal privacy fence with natural tongue and groove wood.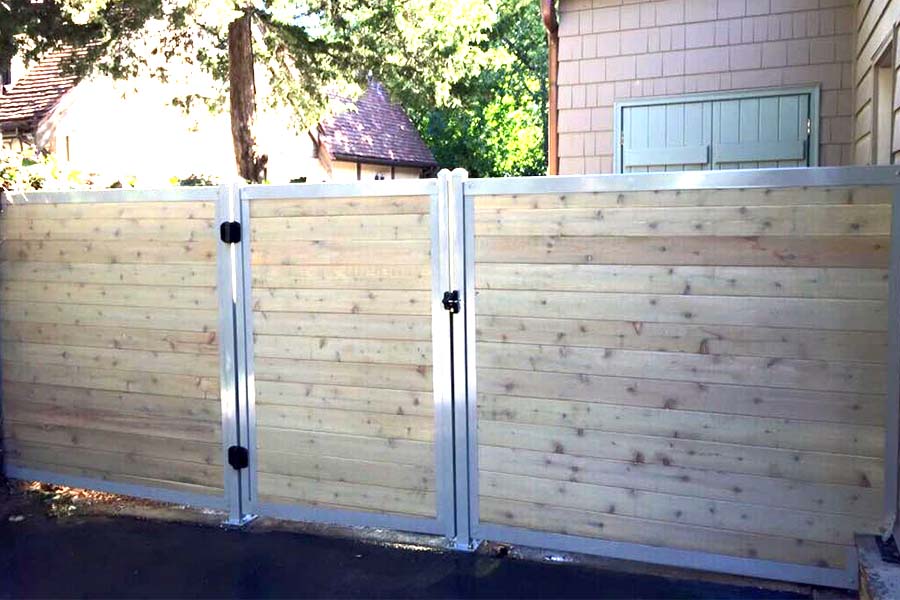 More bamboo patio privacy.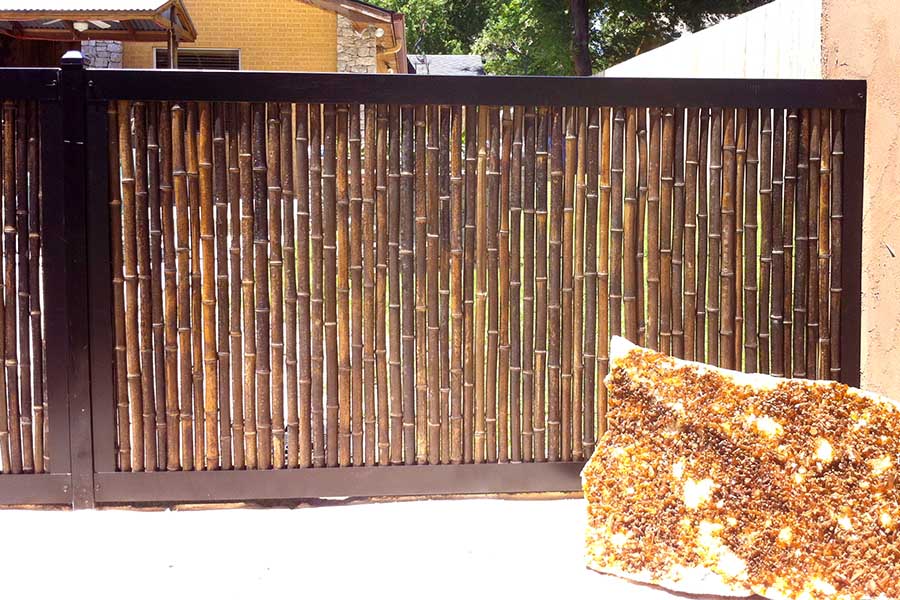 If you need a super-private patio space, you can wrap your fence right around the sitting area.
Check out this outdoor kitchen area with a brick fire pit table. It look great… and that fence matches the upscale character of this space.
The fence around this patio looks amazing compared to a standard wood privacy fence.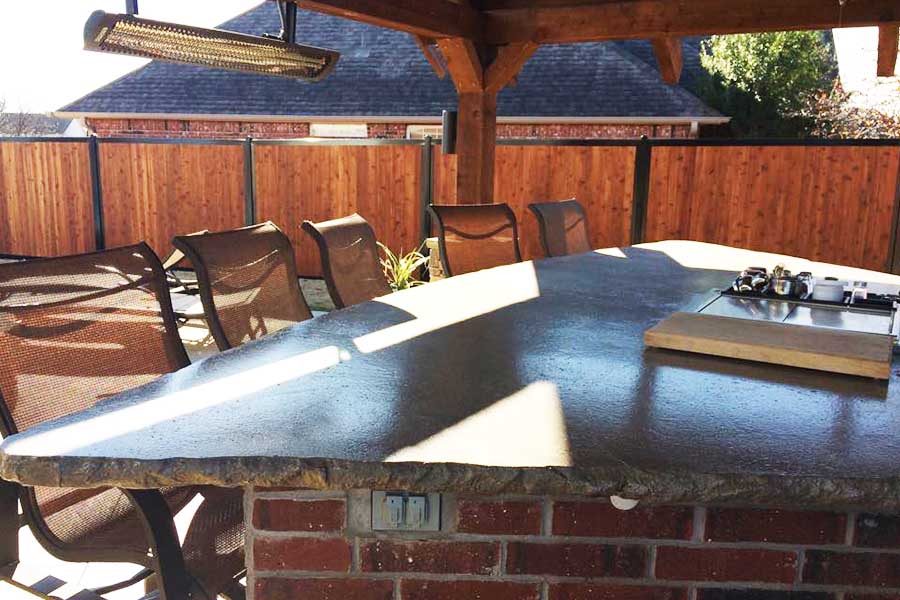 Pool Privacy Fence Ideas
The best pool privacy fence provides total privacy.
A privacy fence with no gaps in the fence delivers.
Here's another example of a metal frame fence with composite tongue and groove planks that fit together to remove all gaps or spaces between pickets.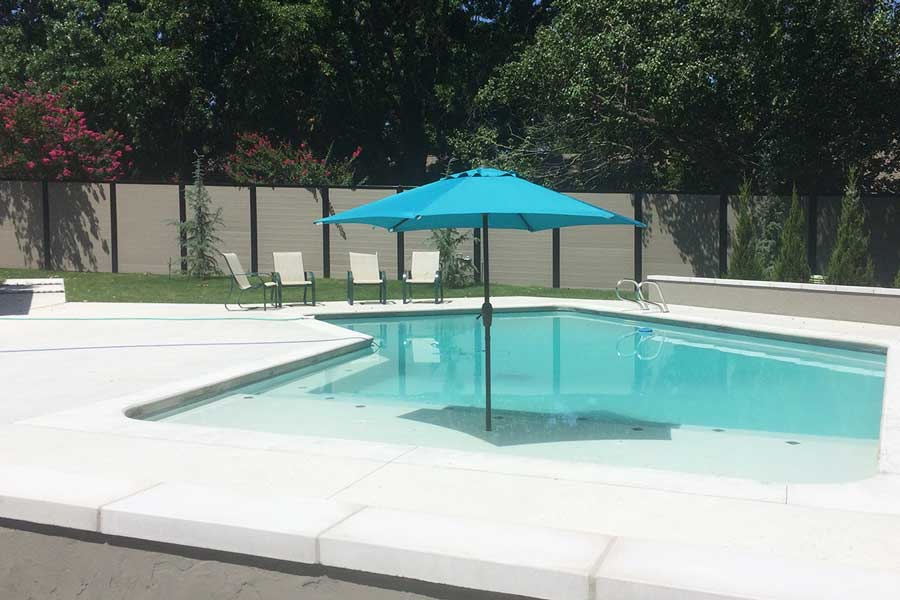 Here's a pool privacy fence under construction with with painted steel and stained wood pickets.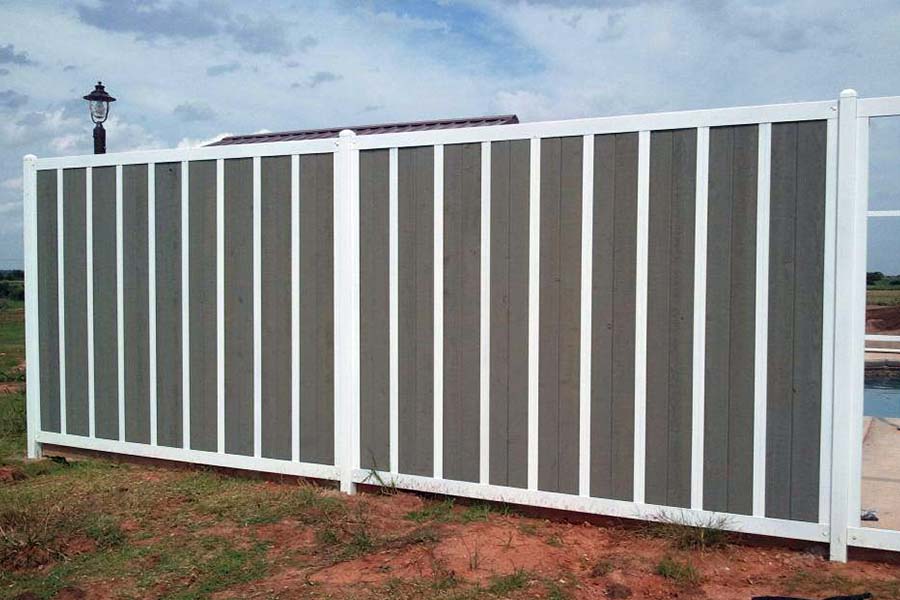 Super privacy and super elegance.
Poolside bamboo privacy fence screen. Simple. Unique.
This pool area is protected by a beautiful fence.
Black metal privacy fence with gray stained wood. This fence is the perfect compliment to this peaceful backyard.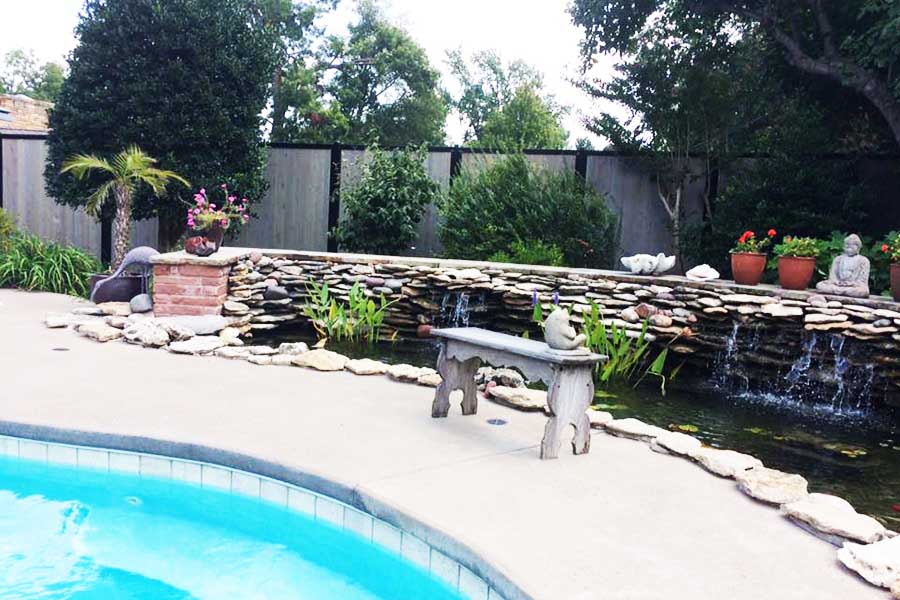 Commercial Privacy Fence Ideas
Commercial properties are often secured by a chain link fence.
If a commercial property owner wants privacy, sometimes they will install privacy slats or privacy screens on the fence.
Here are some commercial privacy fences that offer total privacy and are far more difficult to climb than a chain link fence.
The FenceTrac rail system makes it easy to assemble a strong privacy fence that looks great with your property. Here is the same fence under construction.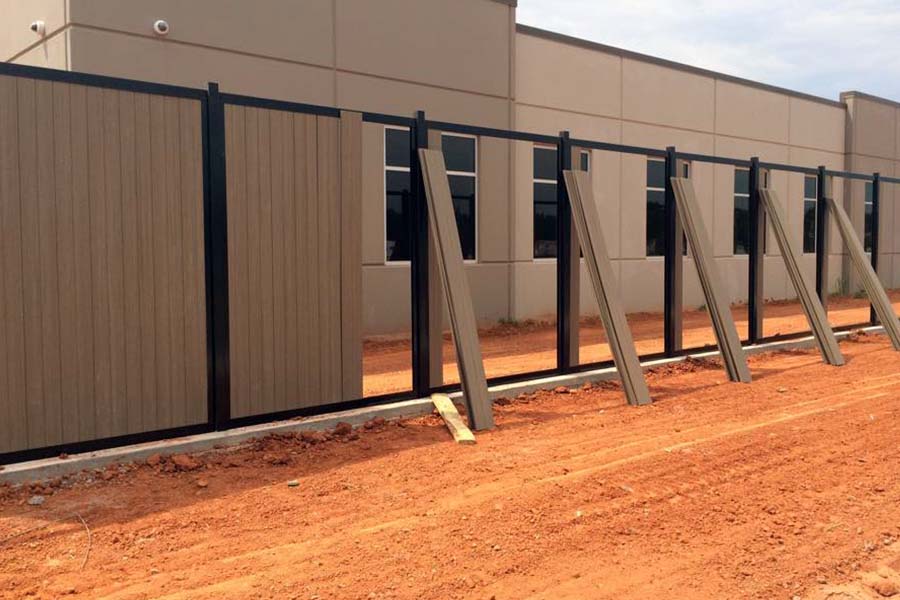 The fence below includes a heavy-duty wide rolling fence gate to allow easy access to this property.
Superior privacy and strength are built into this privacy fence design.
Gray composite fence planks with a black metal frame create a clean-looking and strong privacy fence to protect inventory and equipment.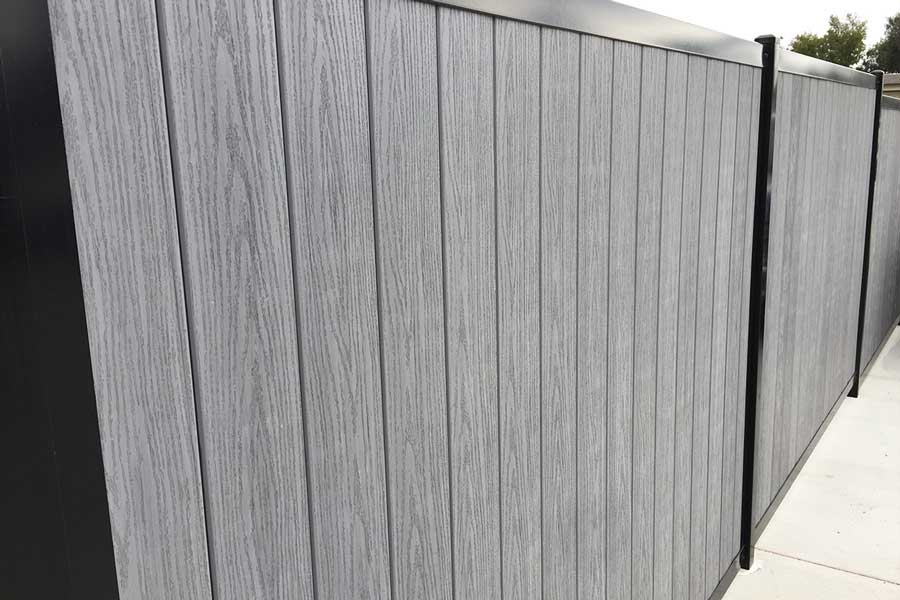 And this beautiful entry gate is professional and private.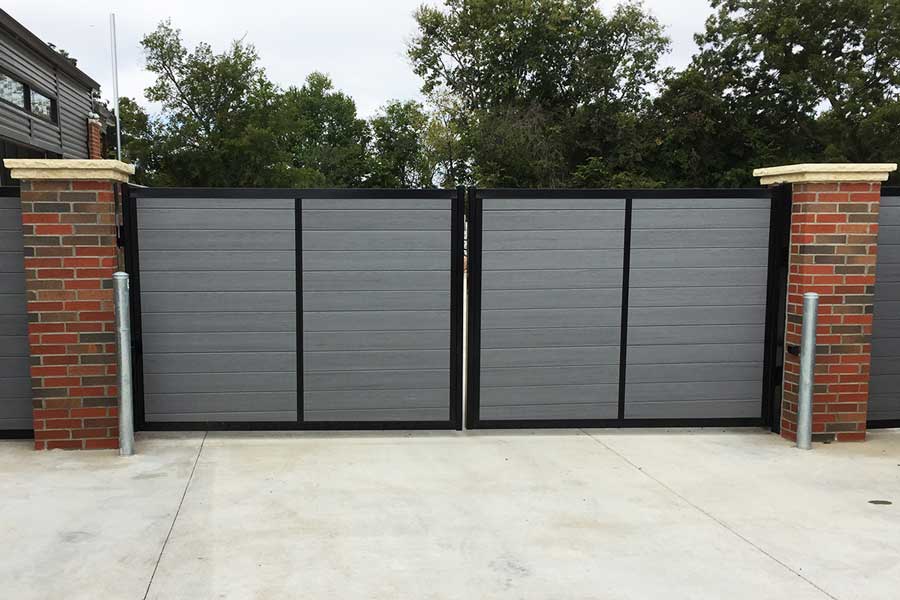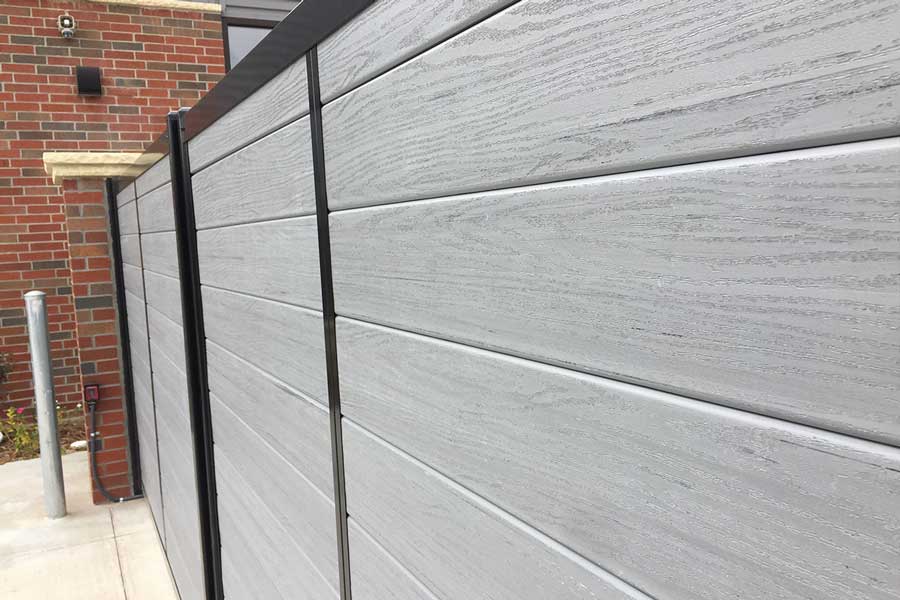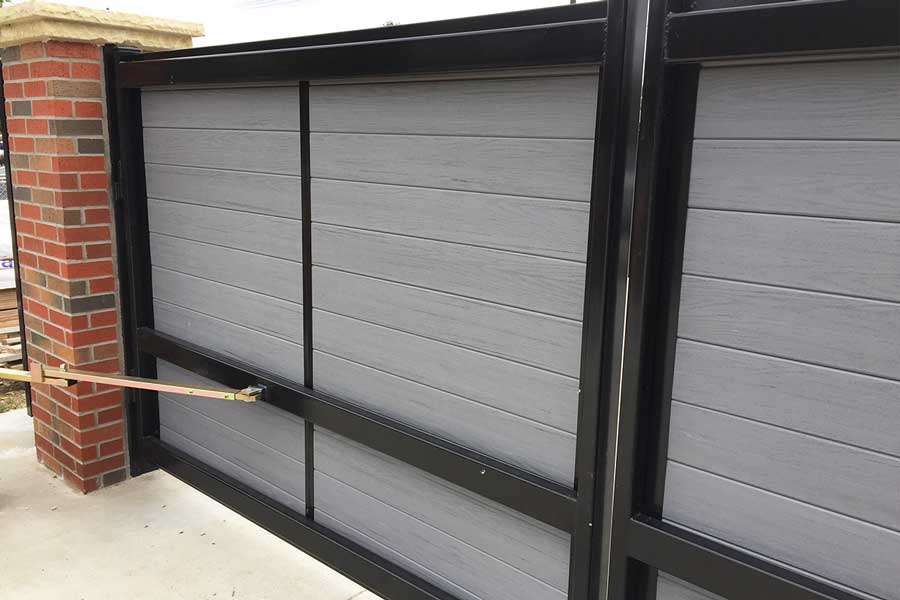 You can also create a private protected patio space outside your office, education or medical building.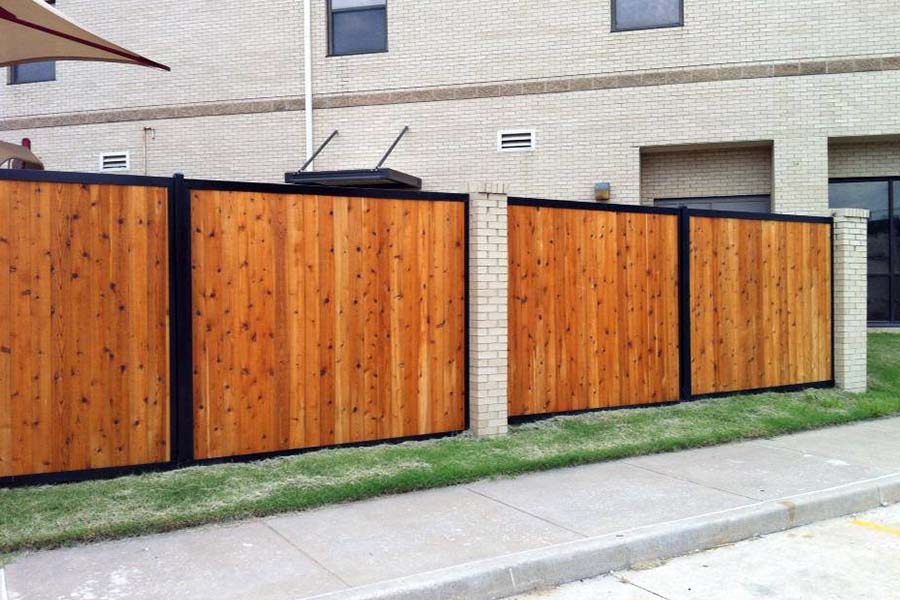 HOA Neighborhood Privacy Fence Ideas
Neighborhood privacy fences can either add to the value or detract from the value of homes within the neighborhood.
A beautiful HOA privacy fence (that lasts a long time) will help secure the neighborhood and add tremendous curb appeal to the neighborhood.
This privacy fence combines a warmly stained red cedar with white metal posts and white rails between rock pillars.
This is an HOA neighborhood privacy fence.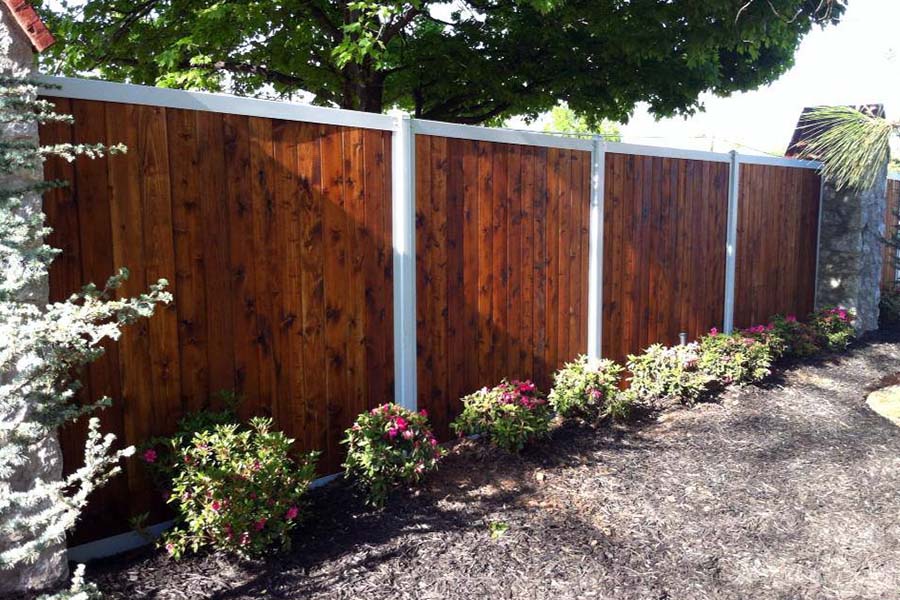 Here's another neighborhood privacy fence that includes cream colored steel posts and vertical rails combined with natural cedar wood.
Below is a before/after photo of an HOA neighborhood perimeter fence under construction.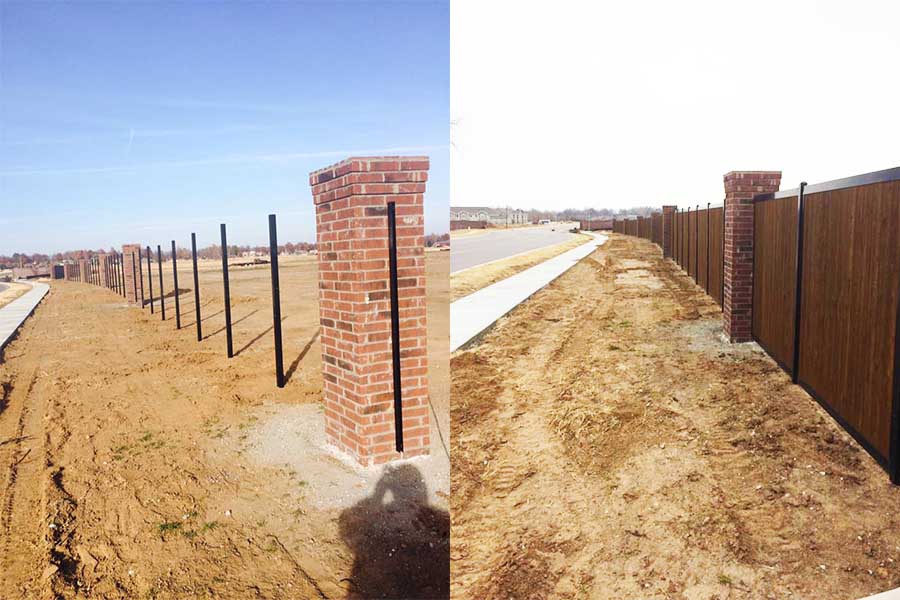 Another HOA privacy fence.
Red cedar stained fence planks and black metal frame. Most HOA fences made from all wood begin to lean and look wavy within 10 years. This one won't.
Look at that fence. It's much cheaper than an all rock or brick HOA fence, and far better than a traditional wood privacy fence.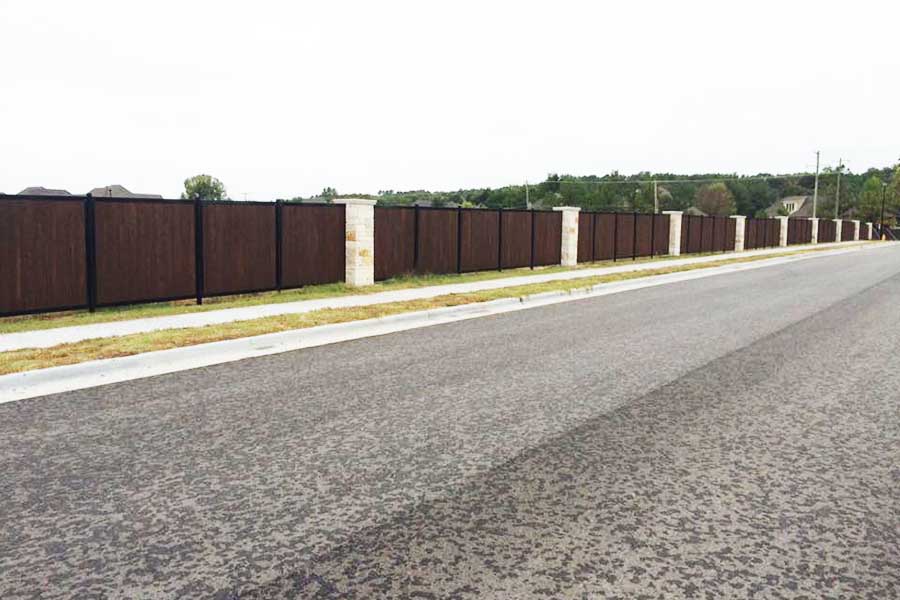 This privacy fence borders a Colorado-style HOA neighborhood.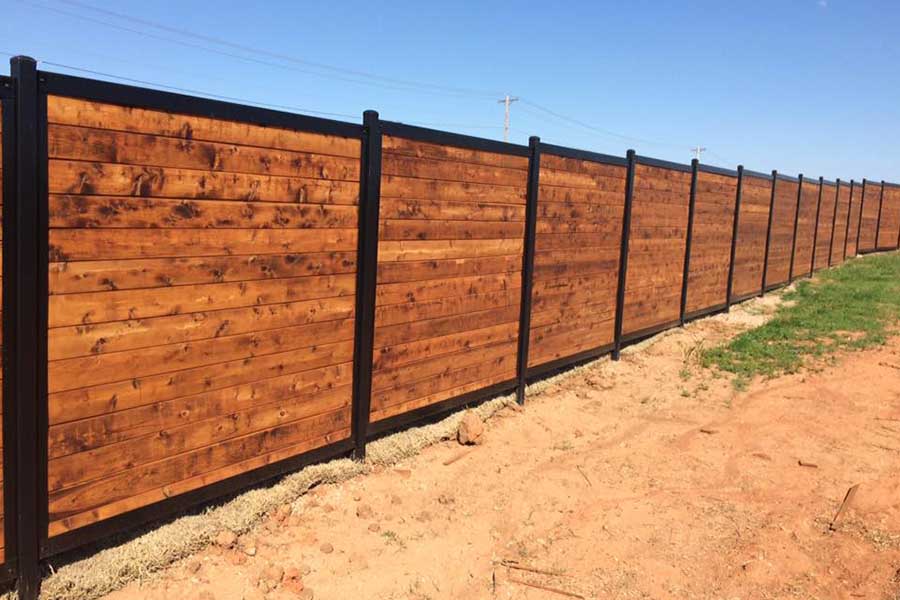 Privacy Fence Ideas to Hide Utilities
Sometimes you need to hide utilities for security or for looks.
Here are some privacy fences hiding garbage cans and pool pump equipment.
Here is a dumpster enclosure on a commercial property.
This AC enclosure hides the air conditioner units while providing security for the property.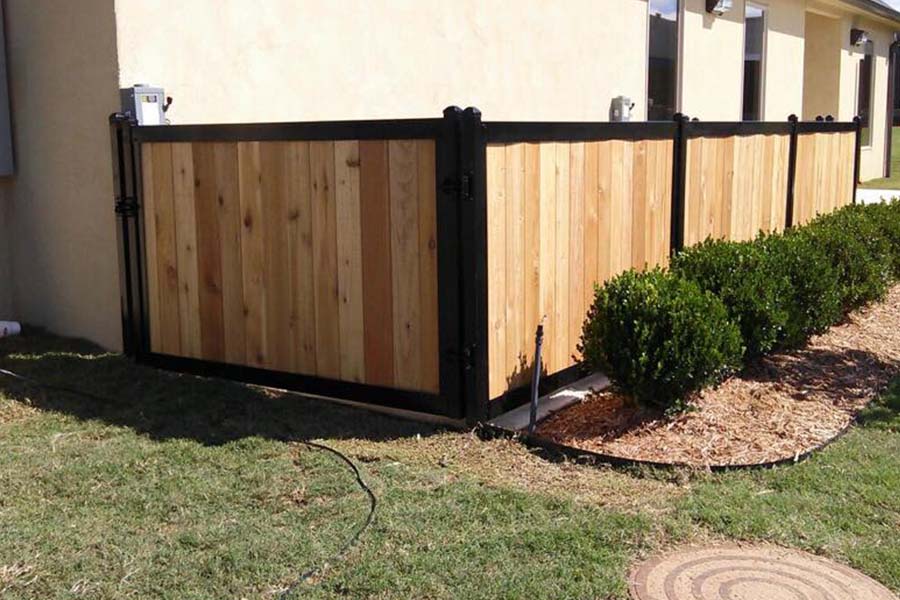 AC unit enclosure that blends perfectly with the building design.
These utility fence enclosures look great.
Here is a generator enclosure under construction.
Dumpster privacy fence enclosure with two heavy-duty double gates.
Privacy Fence on Wall Ideas
If you have a wall bordering your property, you may be able to mount your privacy fence directly to the top of the wall.
Privacy fence mounted on top of a concrete wall. This fence is strong and beautiful.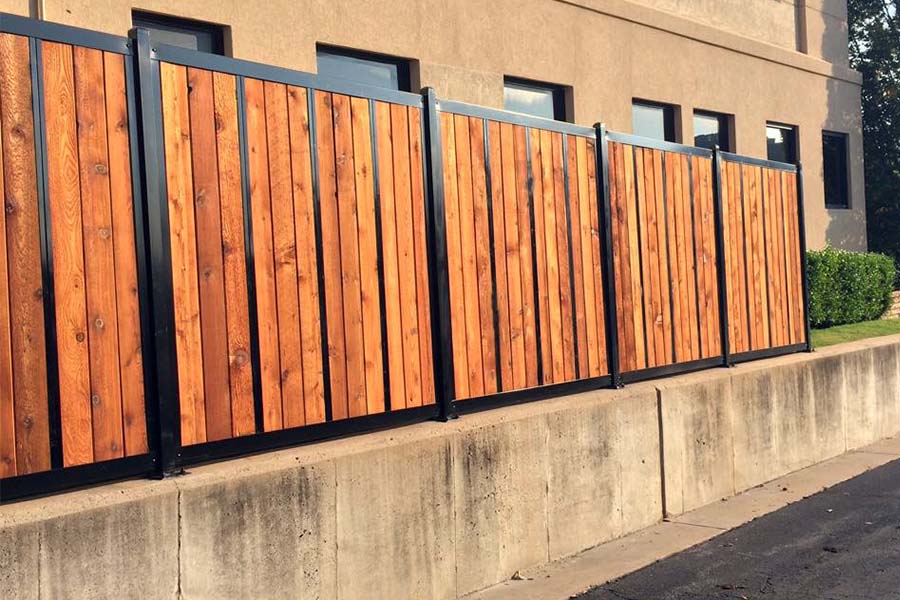 Here is a privacy fence is mounted to the top of a brick wall.
Another angle of a fence mounted to a retaining wall.
This privacy fence is mounted to the ground above a retaining wall for more height and more privacy.
Privacy Fence Design Options
If you are replacing a privacy fence or building a new one, consider using FenceTrac to build a completely different design for your privacy fence.
The design of your new privacy fence is limited only by your imagination.
Discover a Better Way to Fence